The five reasons why Messi will have to sit in the dock
Though prosecution wants case shelved, Tax Agency is requesting a 22-month sentence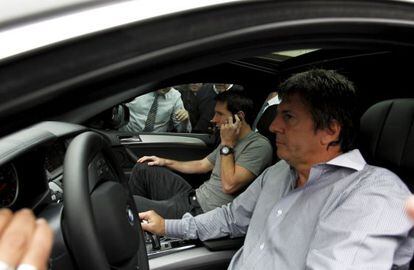 The public prosecutor is asking for the €4.1 million tax fraud case against Leo Messi to be shelved and places all criminal responsibility on his father Jorge Horacio Messi.
But the Tax Agency thinks the Barcelona forward should also sit in the dock and is asking for a 22-month jail sentence. It believes him when he says he knows nothing about tax matters, but insists that he ought to have suspected something, "if only due to the fact that he received a tax refund" between 2007 and 2009.
The Tax Agency believes that the price paid for Messi's image rights in 2005 was "frankly laughable" 
The Tax Agency is basing its case against the player on five pieces of evidence:
The initial contract. In 2005, a few days before signing with Barcelona, Messi's parents signed a contract handing over their son's image rights for €50,000. The Tax Agency believes that the transfer of the rights was "simulated" and that the price was "frankly laughable," considering the expectations surrounding the young soccer star. Messi, the state lawyers' statement says, had debuted with the Barcelona first team, "was touted as the Golden Boy of 2005" and had received an offer – which was later rejected – from Nike, which wanted to pay him €300,000 a year. Messi participated in the signing of the contract to the extent that he knew about it, conformed to it and complied with it, the written accusation states.
Messi ratified it. After turning 18 in 2006, Messi ratified the initial contract before a notary at the request of Adidas. The player "expressly consented" to handing over his rights "without lodging any claim or complaint."
He was the owner of Jenbril... The statement adds that Messi was also the only shareholder in one of the companies used in the tax fraud, Jenbril, which was registered in the tax haven of Uruguay.
…and its managing director. In order to underpin its case, the state accusation adds that, after his father's disagreements with his former business partner Rodolfo Schinocca, the former set up a new network of companies very similar to the one previously created in 2007. According to the documents, Leo Messi appears as managing director and manager of Jenbril.
Involvement in advertising contracts. Lastly, the written accusation points to "the personal and direct intervention" of Messi in contracts relating to the use of his image rights, such as the one he signed with Spanish telecoms giant Telefónica in 2008. In that document, the reports say "he expressly designates an account in Switzerland to receive the payments."
English version by Nick Funnell.