Mexico's Supreme Court backs adoptions by gay couples
Top court declares law denying the right to those in domestic partnerships unconstitutional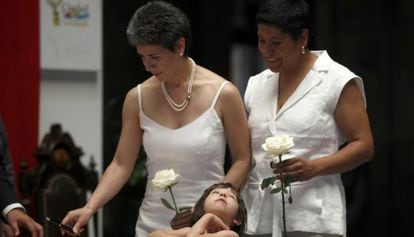 Mexico continues to make progress on equal rights for homosexuals. On Tuesday, the National Supreme Court of Justice of the Nation extended adoption rights to gay couples, having acknowledged the intention to do so in June's historic ruling in favor of same-sex marriage. The latest decision by the country's highest court declares an article in Campeche state law that bars common-law partners – whether heterosexual or homosexual – from adopting minors to be unconstitutional.
The nine-to-one vote in favor paves the way for Mexico to enshrine this right at the federal level
The nine-to-one vote in favor paves the way for Mexico to enshrine this right at the federal level. From now on, any appeal on the grounds of unconstitutionality regarding the issue will be met with this official recognition of the legal right to adopt. The Court said the revoked article unleashed "discriminatory effects against people" in domestic partnerships and that the core of the article violated the fundamental right to start a family.
"The step taken today is a reaffirmation of the rights of LGBT [Lesbian, gay, bisexual, and transsexual] people to marry and to form a family," explained Gloria Careaga, coordinator of the Fundación Arcoíris gay rights organization. "There is growing agreement in the Court, which is setting the pace for human rights in the country."
The decision means Mexico takes one more step forward after making the gigantic leap to legalize gay marriage in June. In that historic sentence, the Supreme Court gave its definitive backing to same-sex unions and declared that they had equal status to heterosexual marriages. The ruling brought uniformity by declaring that any law establishing procreation as the purpose of marriage or defining it as a union between a man and a woman was unconstitutional. The doctrine effectively legalized gay marriage and put Mexico on a par with Argentina, Brazil and Uruguay.
During sessions held before the final vote, Supreme Court President Luis María Aguila defended the ruling, as well as the rights of homosexual couples, on the grounds of the child's interest. "I don't see any problem with a child being adopted by a common-law couple who wants it. What? Do we prefer to have kids on the street, the number of which, according to the statistics, is over 100,000? That just as severely, or even more so, threatens the greater interests of the minor."
The only dissident voice on the bench, former attorney general Eduardo Medina Mora, said there was no such discrimination given that domestic partnership laws applied to both gay and heterosexual couples alike. "I think that what is unconstitutional is that, in essence, those who are being discriminating against are the homosexuals; it is disguised in a subtle, intelligent way but that is what is behind this legislation," Aguila responded.
Translation by Dyane Jean Francois.