The Mexican serial killer who has found love behind bars
Convicted murderer 'La Mataviejitas' weds fellow inmate at a prison ceremony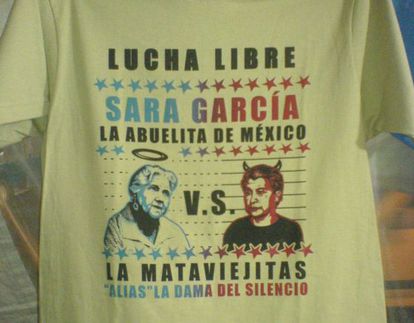 If there is a fine line between crime news and the gossip press, Juana Barraza Samperio just recently crossed it.
The notorious 56-year-old convicted serial killer, and former professional lady wrestler, has been given many monikers by the Mexican media. She billed herself as La Dama del Silencio (the quiet lady) when she was in the ring.
Her husband is a 74-year-old fellow convict who is also serving a murder sentence at the same prison
But it was because of her shocking exploits, which eventually landed her in prison with a 754-year term, that reporters dubbed her La Mataviejitas (the old-lady killer).
Now, after nine years behind bars, the national press once again has focused on Barraza following her marriage over the weekend to another inmate.
"She found love," read one headline in a Mexico City daily.
Her husband has only been identified as Miguel Ángel, a 74-year-old fellow convict who is serving a sentence for murder in the men's section of Santa Martha Acatitla prison, where Barraza is also confined.
Some investigators believe that Barraza killed up to 40 elderly women during her crime spree
Barraza and Miguel Ángel, who have been in a relationship for about year, were married along with 48 other couples who took their vows at the prison. After the collective ceremony, prison officials provided food, music and a cake during the reception, according to a statement.
The marriages are part of the Mexican government's program called Lazos en Reclusión (bonds in confinement), which helps inmates forge personal relationships with each other.
Barraza has the typical profile of a serial killer. She made her living from a business she owned as well as the money she made as a wrestler. But when she wasn't taking down her opponents in the ring, Barraza preyed on elderly women by disguising herself as a caregiver.
In many instances, she would beat, stab or strangle her victims.
It took Mexican authorities many years before she was captured in 2006. A judge convicted her on 17 murder counts, but some investigators believe that Barraza may have killed up to 40 women during her crime spree.
Never showing any remorse, Barraza explained that she killed her victims because she "needed money." But she also claimed that she didn't commit all the murders attributed to her – only the ones in which her victims caught her off guard.
La Mataviejitas has become more than a popular folk figure in the collective Mexican imagination. A television program based on her life has been aired and ballads about her murderous rampage have been written, including one by popular cumbia singer Amandititita.
"La Mataviejitas wants to get rid of your grandmother / no one can stop this shameless person / she is a professional wrestler / she use to call herself La Dama del Silencio / No one suspected or could have imagined such a thing / This killer could be your neighbor," the song goes.
Last year, Barraza told the Mexico City daily Excélsior that she "sleeps well at night" and that she was "happy with her life."
And nine years after she was captured, she has now "found love" in jail.