Judge summons councilor who made Holocaust and ETA jokes on Twitter
High Court will soon decide whether Guillermo Zapata may be tried for humiliating victims The messages were posted on the microblogging site in 2011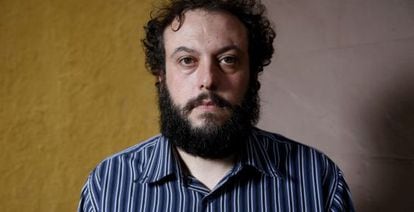 Madrid's shortest-lived culture chief, Guillermo Zapata of the leftist Ahora Madrid bloc, has been summoned to give testimony at the High Court on July 7 in connection with offensive statements he published four years ago on the microblogging site Twitter.
Judge Santiago Pedraz will decide whether Zapata may be charged with humiliating victims of terrorism after he posted jokes about victims of the Basque terrorist group ETA and about the Holocaust.
Zapata has repeatedly denied charges of anti-semitism, and insisted on his right to use dark humor
Pedraz has accepted the criminal complaint filed by the association Dignity and Justice following a prosecutor's report supporting legal action against Zapata, who resigned his position over the controversy but has retained his councilor's seat.
The prosecutor believes that tweets he published in 2011 about ETA terrorist victim Irene Villa were "humiliating and degrading." Villa, who lost both legs in a car bomb attack when she was 12 years old, has been called in as a witness.
Zapata's tweeted jokes included: "They've had to shut down Alcàsser cemetery so Irene Villa won't go in to get replacement parts." Alcàsser is a town in Valencia that made headlines in 1992 when three local teenage girls were abducted, tortured, raped and killed by two men, one of whom was never caught.
Another one of the tweets, which Zapata later claimed were posted in the context of a debate about the limits of humor, said the following: "How do you fit five million Jews into a Fiat 600 [a tiny car popular in the 1960s and 70s]? Answer: in the ashtray."
Socialists ask for his seat
The Socialist leader in the Madrid council, Antonio Miguel Carmona, on Thursday reiterated his disagreement with Zapata's presence there and asked him to give up his seat. When news about the tweets first emerged in mid-June, Carmona immediately called for his dismissal as local culture chief.
Zapata eventually resigned this position after just 48 hours on the job. He has repeatedly denied charges of antisemitism, and insisted on his right to use dark humor.
Ahora Madrid – which ran for municipal elections on an anti-austerity, anti-corruption campaign, and took power in City Hall thanks to the support of the Socialists – is also facing problems with its council spokeswoman, Rita Maestre, who is the target of a court case over offensive behavior at a religious act in 2011.
Ahora Madrid is a bloc made up of new leftist party Podemos, the social movement Ganemos, and breakaway members of the traditional left-wing party United Left
Irene Villa: "I'm not worried about jokes about me"
EL PAÍS / AGENCIES
ETA terrorism victim Irene Villa released a statement on Thursday saying that she was not bothered by jokes about her, and that they are only "a problem for the people who make them."
High Court Judge Santiago Pedraz has called Villa to appear before him as a witness as he decides whether Ahora Madrid councilor Guillermo Zapata should face trial for the offense of humiliating victims of terrorism.
"I have never been bothered, nor will I ever be bothered, about any kind of humor or joke about me. It's only a problem for the people who make them," she said.
Villa, who was the victim of a 1991 ETA attack, continued in the statement posted on her Facebook page, that she considered herself to be "a lucky woman," for her achievements and for the people who she has by her side. "I would only feel disadvantaged if someone tried to attack my honor or that of the people I love and who surround me," she wrote.
In a previous statement, in which she made clear she was expressing a personal opinion, she said that there were tweets out there that were much worse than the jokes at the center of the Zapata controversy – messages in which there were calls to kill a politician or to set fire to banks with people still inside. "That's the kind of thing that should be taken to the public prosecutor, not a joke," she said.