"If we have to disobey unfair laws, they should be disobeyed"
The victor at the Barcelona mayoral elections is planning to limit tourism in the city
Former social activist Ada Colau is on her way to becoming the first female mayor of Barcelona, after having secured 14,000 more votes than incumbent Xavier Trias, of the pro-Catalan independence party Democratic Convergence of Catalonia, at recent municipal elections. Colau's party, Barcelona en Comú – which includes members of Initiative for Catalonia Greens, United Left and anti-austerity group Podemos, among others – will have to seek a pact with the Catalan Republican Left (ERC) and the Catalan Socialists (PSC) in order to get through the investiture vote in the city council. Before running for mayor in the elections, Colau was a familiar face at anti-eviction protests, working closely with the Mortgage Victims Platform (PAH).
The only people who should fear me are the corrupt and the great speculators who are attacking the common good"
Question. Some sectors in the local economy have expressed their unease at your victory. Should anyone be afraid of Ada Colau?
Answer. Personally I don't like to be afraid nor make anyone afraid. But we are asking for equal opportunities and the same treatment for everyone, something that has been lacking in recent years. The only people who should fear me are the corrupt and the big speculators who are attacking the common good.
Q. Your economic policies are focused on boosting cooperative economies and rehabilitating housing. Can you help the 90,000 unemployed in Barcelona without taking care of the big multinationals?
A. Ninety-five percent of companies in Barcelona have fewer than 10 employees. It's not about taking care or not taking care of anyone, but rather working together with the self-employed, businesses and SMEs, which represent the majority and have had barely any support. We would be delighted to work with big companies, but only if we lay down conditions and call on them for a bigger return for the city. Right now we have big companies with big profits that give nothing back to the city, but rather they take it all abroad to tax havens while here all that is created are precarious jobs. To sum up, better public leadership to encourage the type of model we want for this city.
Q. What would you say, then, to a hamburger restaurant that wants to open up in the city, paying €800 a month to its employees?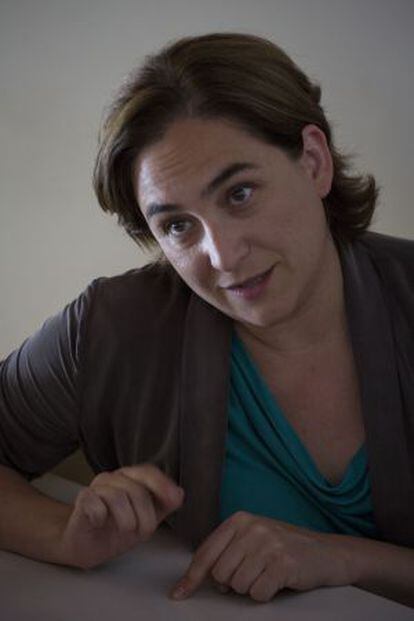 A. We want to see businesses that share out wealth and that pay dignified salaries, and that have reasonable timetables that allow for a work-life balance. One of the measures that we will be working on is a seal for contract quality. The city council should use its economic strength to encourage good practices and call for companies that work for it to set an example.
Q. You have said that you will revise contracts and agreements. Will that affect the Fira trade fair?
A. We are not talking about freezing any of the contracts that allow for public service activities, none of that is in danger. We have raised the alert about two issues that we want to revise. One is to revise large public tenders, which may be working against the common good, such as the license granted to Deutsche Bank to build a hotel, and the luxury marina at Port Vell. We also have said that we will not back large projects such as the ski run at Zona Franca. We will be carrying out audits on bodies where the public feels there is no transparency.
Q. Will you make all salaries and contracts public?
A. Transparency should be the norm, not the exception, and even more so when we are talking about public money. We will do so as long as there is data protection. In Fira, in the metropolitan area, there are mixed companies… Why aren't the budgets of the TMB [Barcelona Metropolitan Transport system] public if we are talking about very high salaries?
The city council should use its economic strength to encourage good practices and call for companies that work for it to set an example"
Q. Tourism is one of the economic pillars of the city. How would you interpret the silence of the hotel companies regarding your victory?
A. We met with them during the election campaign. Our plans should not worry them, quite the opposite in fact. We told them that the situation is out of control in places where there is greater pressure due to tourism. We have to put a moratorium in place regarding new hotels and tourist apartments, carry out a census and create a preventive policy before it gets out of hand, as has happened in [Barcelona district] Ciutat Vella. We need to create a tourism plan thinking about local residents. We can't have a tourism boom after the real estate boom.
Q. Can you limit the number of tourists in Barcelona?
A. We need to look at it very seriously. When I talk about a strategic plan, created with all of the protagonists, we should be talking about looking at the saturation limit, because there will be one. If we don't want to end up like Venice, we will have to put some kind of limit in Barcelona. We can grow more, but I don't know how much more.
Q. Are you really planning to levy fines – and not just symbolic ones – on banks that have empty apartments on their books?
A. If they don't work with us, yes. Our objective is for them to collaborate via a housing board. Sanctions for banks who do not work with us will be big and not symbolic.
Q. ERC has called for your commitment to independence in Catalonia. Will you call a vote to decide whether Barcelona will join the Association of Municipalities for Independence?
A. Given that this would mean joining a body that is in favor of independence, such a vote would be a kind of undercover referendum on independence. We are prepared to call a vote on this because we have a serious commitment to the right to decide, unlike CiU.
Q. When would you carry out that vote? This year?
A. I understand that would be the case, but we would have to see what happens in the elections on September 27.
Q. What would you do if that vote was declared illegal?
A. We would fight for it to be held. If we have to disobey unfair laws, they should be disobeyed. But what we cannot avoid now, when the people are calling for change, is for citizens to have the last word. If we want to bring back the legitimacy to our institutions […] then people must have the last word on major issues.
Transparency should be the norm, not the exception, and even more so when we are talking about public money"
Q. You voted in favor of an independent state for Catalonia in the unofficial referendum last November. Is Ada Colau pro-independence?
A. There are people like me who, without being pro-independence or nationalist, voted in favor on November 9 because we understand that the situation with the state is at an impasse. We understand that the current model has run its course and that we need a constituent process. A process of this kind can be a way of achieving a better, more democratic system if that means breaking away from the state.
Q. Will the Olympic candidacy for Barcelona Pirineos be withdrawn?
A. It will be withdrawn in its current state because there is no consensus about it. We will have to go back and restart talks with the residents, sporting sectors… We have to decide what kind of candidacy it will be.