POLITICS
Podemos co-founder criticizes mainstream drift in his own party
Political science professor Juan Carlos Monedero considering leaving active politics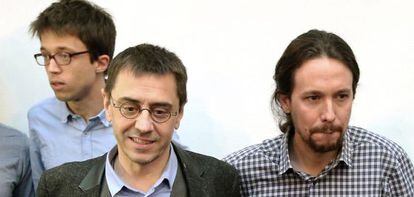 Juan Carlos Monedero, the co-founder of Podemos, on Thursday leveled serious criticism against the way the emerging anti-corruption party has been handling itself recently.
The man who helped party leader Pablo Iglesias propel a small grassroots movement to the top of voter intention polls now claims that Podemos has adopted some of the very vices it has been criticizing in the mainstream parties.
Party sources denied that Podemos is losing its freshness, but admitted that things have changed in recent months
"Podemos is falling into these kinds of problems because it no longer has the time to meet with the small circles [the name with which the party refers to local-level supporters], because it is more important to get one minute of TV airtime or to do something that adds to the collective strategy," the political science professor told an interviewer on internet-based broadcaster Radiocable.
But Monedero stressed that Podemos remains "the most decent [force] in Spanish politics."
The party's number-three man said that when a political party's main goal is to "reach power," it "joins the electoral game and starts becoming hostage to the worst aspects of the state."
He called on the 15-month-old party to "go back to its origins," in reference to its foundational spirit based on the so-called Indignados popular-protest movement.
Party sources denied that Podemos is losing its freshness, but admitted that things have changed in recent months, saying that they trust they will recover lost momentum thanks to direct contact with the circles and supporters during the election campaign.
On Tuesday, Monedero told EL PAÍS that he will decide in the coming weeks whether to step down from active politics.
Earlier this year, Monedero was involved in a scandal for failing to declare income of €425,000 that he allegedly made from advisory work for the governments of Venezuela and other Latin American nations. Eventually he had to pay the Spanish Tax Agency €200,000 in back taxes and fines.
At the time, Monedero described himself as the victim of "a witch-hunt" and aimed his criticism at Finance Minister Cristóbal Montoro, whom he accused of trying to intimidate him with the tax inspection.
He also denied using the money as illegal funding for Podemos.
Spain will hold local and regional elections in May, and general elections in the fall.