Madrid mayoral hopeful chided for wanting to sweep homeless off streets
Legal experts remind PP candidate Esperanza Aguirre that laws allow sleeping outdoors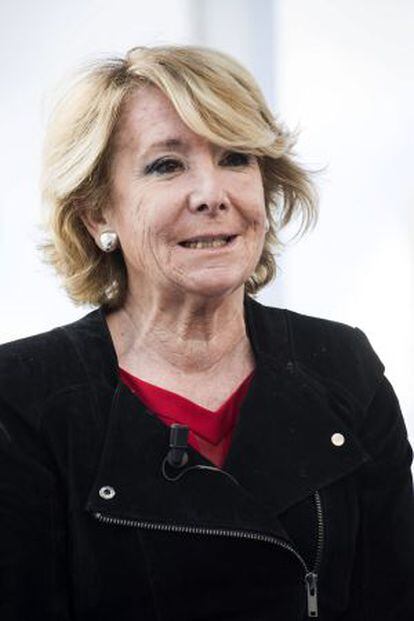 Madrid politicians reacted swiftly to statements by mayoral hopeful Esperanza Aguirre regarding the need to sweep the homeless off the streets to help tourism.
The criticism came not just from the opposition, but also from within her own Popular Party (PP), which has ruled the Spanish capital uninterruptedly since 1991.
Speaking at a tourism event on Monday, Aguirre – a veteran politician who was premier of the Madrid region from 2003 to 2012- stated that the presence of people sleeping rough damages the capital's image and is bad for tourism.
She promised to "analyze in-depth" why this is allowed to happen, and whether the homeless might not be taken to shelters by force.
"Before, the social services used to come and offer people who wanted to sleep on the streets the chance to go to a shelter, and if they didn't want to, the social services took them away and did, I'm not exactly sure what, to them," she stated.
The government delegate in Madrid, Concepción Dancausa, also of the PP, noted that people cannot be forced off the streets under current city bylaws.
By law, anyone can lie on a bench and stay there all night, it's not forbidden" Concepción Dancausa, government delegate in Madrid
Dancausa, who was once head of social services in Madrid, underscored that Madrid has one of the largest shelter networks, but that nobody can be forced to use them.
"Nobody can be prohibited from being on the streets or from walking around, unless a new bylaw is approved. By law, anyone can lie on a bench and stay there all night, it's not forbidden," she said.
Legal associations also spoke up to remind the conservative politician about the limits of the law.
Marcelino Sexmero, the national spokesman for the judge association Francisco de Vitoria, told the Efe news agency that Aguirre's promise to work on taking the homeless off the streets is nothing but an empty promise, because doing so "would represent a deprivation of the freedom of movement, which is protected by the Constitution."
Joaquim Bosch, spokesman for Judges for Democracy, added that the issue should not be addressed from "the perspective of someone who wants a city wiped clean of the homeless." Instead, the city should design "mechanisms for social protection."
This is not the first time that Aguirre has drawn public ire. A notoriously outspoken woman who is both revered and reviled by many, she has a history of controversial statements and behavior – such as knocking over a police scooter as she sped away from officers trying to give her a ticket for a parking violation.
Madrid will hold local elections in May. The incumbent, Ana Botella, is not running for the post after failing to secure enough support from the PP. A former deputy mayor, she took over from mayor Alberto Ruiz-Gallardón when he was asked to become Spain's justice minister in December 2011.