"Sorry, have you seen a peloton go by?"
Tunisian cyclist borrows phone to track down riders after getting lost in Castilla y León race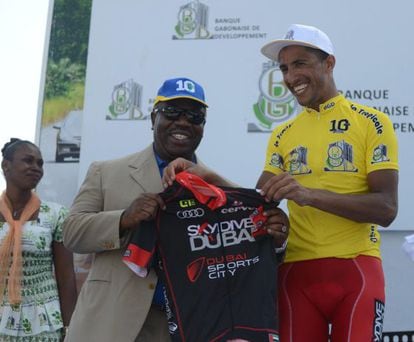 During Saturday's second stage of the Tour of Castilla y León cycling race, event director Juan Carlos Domínguez received the following unusual message over the radio: "The head of the Dubai team says they have lost a cyclist – have you seen him?"
Unfortunately, it wasn't the best moment to ask a question that sounded like a joke: Domínguez was in the middle of figuring out the least chaotic way of canceling the stage after confirming that heavy snow meant the planned 2,000-meter climb to Alto da Torre, in the heart of Portugal's Serra da Estrela mountains, would not be possible.
"He'll turn up soon enough," was all Domínguez replied.
As he spoke, 29-year-old Tunisian cyclist Rafaâ Chitioui was pedaling along a regular Portuguese highway heading out of the town of Guarda, asking passers-by if they had seen the peloton. With no map, no cellphone, no money, and only a very limited grasp of Portuguese, he faced an uphill task of his own.
With no map, no phone, no money, and only limited Portuguese, Chtioui faced an uphill task of his own
"Rafaâ is like that: he sometimes gets a bit lost," says his Skydive Dubai teammate Paco Mancebo. "Five minutes before beginning the stage, the director told us we were now heading towards the start line, but Rafaâ went off in the other direction, looking for the bathroom or something. So we headed out of Guarda without him."
"The set-off from Guarda was very quick and I'm sure Chitioui made a mistake at a crossroads," says Domínguez.
The stage finish line was on the other side of the border in Fuentes de Oñoro, in Spain's Salamanca province, 50 kilometers in a straight line from Guarda, though the snaking route, along highways and mountain passes, stretched it out to 208 kilometers.
When the riders got there, Chitioui was already waiting to tell them what had happened to him. "He told us he had no idea where he was, or where he had to go, and that the people he stopped could not help him very much. In the end, one of them lent him their cellphone and he searched for the web page of the race on the internet and showed the Portuguese man where he wanted to go. When he was already on the main road, he came across the team's second car, with mechanic Jagoba Arberas, who had headed out in search of him."
Rafaâ is constantly getting lost. In the Tour of Egypt, he did the same thing he did in Portugal" Skydive Dubai teammate Paco Mancebo
Chitioui is a talented cyclist in great physical shape. "But he didn't adapt well to living outside of Tunisia and things didn't go well for him in European cycling," says Mancebo. Now he feels more at home in Skydive Dubai, he says, "as long as races don't coincide with Ramadan."
"But he is constantly getting lost," Mancebo adds. "In the Tour of Egypt, he did the same thing he did in Portugal, but in the prologue. […] Just when his turn came to start he disappeared and lost time."
Ironically, Chitioui's one big victory this year, in the Tropicale Amissa Bongo (Tour of Gabon), came after it was the peloton, not him, that took the wrong route after a motorcyclist made a mistake at a junction on the first stage. The pack had been following the breakaway group in which the Tunisian was riding.