Madrid's hidden drug storerooms
Security is the priority when dealing with the tons of illegal substances seized by police
The Pharmaceutical Inspection Service and Drug Control is located on a busy thoroughfare in the center of Madrid. From the outside there is nothing to distinguish it from dozens of other similarly anonymous government office buildings in the capital, with no sign indicating what it does. And with good reason – because inside are stored around 4.2 tons of cocaine, hashish, heroin, ecstasy and other types of drugs seized by the police and Civil Guard, waiting to be analyzed and then destroyed.
The people who work here tell nobody what they do. They are afraid of being blackmailed or threatened"
One side of the building is used to store any amount larger than would fit into a standard envelope. "Before, all drug seizures were brought and stored here while the courts oversaw the case and issued the paperwork to have the drugs destroyed," says Cristina Cifuentes, until last week the central government's representative in Madrid, and now standing in May elections to head the regional administration. "But the problem was that we were running out of space to store it all, and it was also a major security headache, as well as a potential health and safety issue for staff," she adds. At times, she explains, up to 37 tons of drugs were being stored here. "It was one of my main goals to remove this temptation and, after meeting with the Interior Minister, Jorge Fernández Díaz, we saw this was a potential problem not just for Madrid, but for the whole of Spain," she says.
Now, only drug hauls smaller than 60 kilograms are kept here. "We decided on that because it is the largest amount ever seized in a single operation at Barajas Airport," says the woman in charge of the unit.
When carrying out tests on drugs, staff here must wear special protective clothing, including respirators, face shields and two pairs of gloves. Rooms are fitted with two extractor fans, and there are always at least two people present to prevent accidents or theft.
Outside, police officers guard the building. "The people who work here tell nobody what they do. They are afraid of being blackmailed or threatened," says a police officer assigned to the center.
Once samples have been analyzed they are then warehoused in large rooms piled high with cardboard boxes filled with packets of drugs. The air hangs heavy with the smell of marijuana, mixed with chemicals. "The stuff goes off after a month, and even less if it is not properly dried," says the head of the unit.
Smaller amounts of drugs that have been seized – usually during the arrests of small-time dealers – are kept in another part of the building. The center processes around 65,000 such samples a year, analyzing substances to note any changes in strength or consistency. "In recent months we have begun to see a strain of hashish that is much more toxic: before it used to be about four-percent pure, but now the amount of tetrahydrocannabinol is around 21 percent," notes the unit head.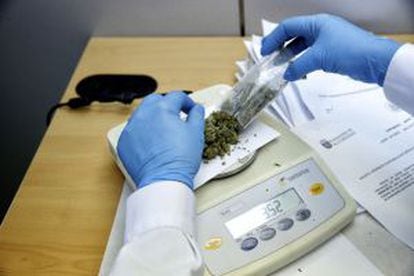 After analysis, reports are prepared and sent to the court overseeing the case. If the amount is small, the report is sent to the central government's delegation, which imposes a fine for possession or consumption of drugs. This can be as high as €30,000, but tends to be less than €1,000.
The center also has videoconferencing facilities allowing its experts to give evidence at trials. "Before, we used to spend all morning tied up in court cases. The videoconferencing was expensive, but we save a lot of time," says the head of the unit.
Every couple of months, she says, the drugs stored here are taken away to be incinerated. As with their storage, great care is taken to make sure that during their journey to be destroyed the drugs are not interfered with in any way, or liable to be stolen.