Central bank takes over Banco Madrid
Board of directors resigns as inspectors show up to comb through its accounts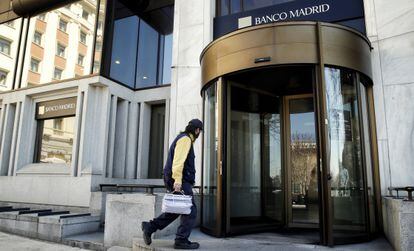 The board of directors of Banco Madrid has resigned and handed management over to the Bank of Spain.
The move comes just a day after the central bank sent two inspectors to investigate accounts at the lender for suspicious transactions. On Tuesday, US law enforcement authorities had taken action against Banco Madrid's parent company, Banca Privada d'Andorra (BPA), for suspected money-laundering activities.
The US Treasury's anti-money-laundering unit, the Financial Crimes Enforcement Network (FinCEN), announced that BPA was "a primary money-laundering concern" and that high-level officials there allegedly helped Russian, Chinese and Venezuelan clients channel money from their criminal activities.
BPA Group, headquartered in the Pyrenean principality of Andorra, entered the Spanish market after purchasing Banco Madrid from Kutxabank in 2011 for €100 million.
The board of Banco Madrid unanimously decided to resign on Wednesday, the same day the inspection team was sent in.
The resignation will be made official on Thursday, when the Bank of Spain will be formally asked to take over.
Sources familiar with the situation said there was fear that Spain's central bank will deal with Banco Madrid the same way that Andorran authorities are dealing with its parent company BPA: by trying to find a buyer for it. If BPA were sold off, the Spanish unit would be unable to survive on its own.
The decision to step down was taken even before inspectors began combing through the lender's accounts. Banco Madrid had already been the target of an earlier money-laundering investigation between April and July 2014, and was found to have closed a number of suspicious accounts without informing authorities about them, as the law mandates.
The average Banco Madrid client is a high-earner with savings of over €500,000 who likes to invest in funds
The bank once extended a loan to Russian national Andrei Petrov, one of the suspects in the US investigation that led to action against BPA. That transaction ended before his accusation, however.
On Wednesday, the tension inside the lender's upper floors had not trickled down to ground level at central headquarters in Plaza de Colón, where customers calmly walked in and out and went about their business, Ignacio Fariza reports.
One bank employee who declined to be identified said she had noticed a slight increase in customers.
"Some people dropped by to ask questions, which is normal, but nobody has withdrawn their money," she said.
However, other bank sources said around 1.27 percent of the bank's holdings, or an estimated €6 billion, had indeed been withdrawn in recent days.
The profile of a typical Banco Madrid client is a high-earner with savings of over €500,000 who likes to invest in funds. Banco Madrid controls 88 SICAV – a public limited company that invests in financial assets and benefits from generous tax rates – that was managing €856 million at the close of 2014.
Until the US Treasury got in its way this week, the lender had plans to grow 33 percent in the next few months, and had hired 20 new executives just a few weeks ago.
The historic board meeting at Banco Madrid was presided by board chairman José Pérez, himself a former high-ranking official at the Bank of Spain, where he was once chief of inspectors. Other members of the outgoing board include the brothers Higini and Ramón Cierco Noguer, who are part of the family who owns a majority stake in BPA; Soledad Núñez Ramón, who served as director general of the Treasury under the Socialist administration of José Luis Rodríguez Zapatero; Joan Pau Miquel Prats, the CEO; Ricardo Climent and Rodrigo Achirica.