Cycle-route booby traps: a growing danger for Spain's mountain bikers
One rider left paraplegic after slamming into rock placed across downhill path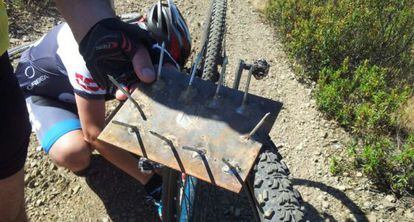 Last spring, Manuel Fernández went out to ride his mountain bike with some friends, taking a route that links the towns of Bueno and Palomar in Asturias, northern Spain.
The 57-year-old was leading his companions down a hill, not looking ahead but at the ground: watching out for branches or rocks on the path.
But even if he had been looking directly in front, he probably wouldn't have seen the piece of barbed wire that had been strung across two trees as he sped towards it.
He smashed his face against the wire, which knocked him from his bike. When he opened his eyes, he noticed the barbed wire was still clinging to his skin.
Fernández had fallen victim to one of the many booby traps that have become increasingly common along bike paths across Spain, according to cyclists and motorbike riders.
Some, such as the one that left Fernández with a permanent scar, are not placed intentionally to cause harm. Sheep and goat herders, for example, string up razor wire to keep their flocks from wandering off. But sometimes hunters, ranchers and land owners set traps to prevent cyclists and noisy motorbike riders from speeding through their properties.
The gash on Fernández's upper lip is deep and conspicuous, but he was lucky. The barbed wire could have cut through his neck.
"I was conscious the entire time," he explains. "I didn't know why I fell but I could feel that I hit my lip on something. I thought I lost my teeth and the first thing I did was to ask one of my companions to save my teeth."
In this video a motorcyclist is knocked off his bike by a cable strung between two trees.
Víctor Tarodo, vice president of the International Mountain Bike Association, said some of these obstacles are left by people who are not aware of the danger that they present. "But there are some that are intentional," he said.
Diego, another cyclist, wasn't so lucky: some months back, he slammed into a large rock on a downward slope along a path. The accident left him paraplegic.
A judge in Vigo, who is investigating the case, is formally investigating four people in connection with the incident.
"The rock that Diego hit wasn't put there by just one person," Tarodo says. "At least three people were needed to move it."
The rock that Diego hit wasn't put there by just one person"
He said these kinds of booby trap have been popping up throughout Galicia. The Civil Guard are investigating various hazards that have been set up in the fields around Verducido, Pontevedra.
Diego and Manuel fell prey to the worst kind of trap a cyclist can encounter. But other riders have reported encountering boards of nails on the paths, which are designed to flatten the tires of anyone who runs over them.
The danger of such devices is, of course, even greater for motorbike riders. "It's incredible how there are people who are capable of stringing barbed wire, knowing that you can kill a person," said Ángel Viladoms, president of the Royal Motorcycle Association of Spain.
Manuel Fernández has tried to forget his accident, which nearly cost him his upper lip. About two weeks later he was back on his bike, but this time keeping a closer eye on what was ahead of him.