Diego Lagomarsino: "I don't know why my prints aren't on that gun"
The IT expert who loaned Argentinean prosecutor Alberto Nisman his pistol talks to EL PAÍS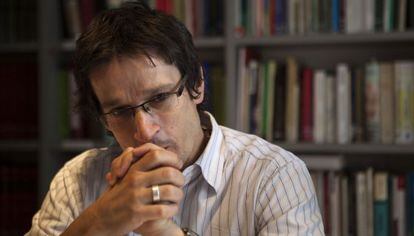 Diego Lagomarsino is the only person under official investigation in connection with the death of Argentinean prosecutor Alberto Nisman.
Weapons charges were filed against the 38-year-old computer expert after he admitted that he provided Nisman with the .22 caliber pistol that was found next to the prosecutor's body on January 18.
Four days earlier, Nisman had filed a judicial complaint against President Cristina Fernández de Kirchner and other officials for allegedly trying to derail his investigation into the 1994 terrorist attack on the AMIA Jewish community center in which 85 people died.
The prosecutor had alleged that Fernández de Kirchner tried to seek a grain-for-oil deal with Iran in exchange for impunity for several prominent Iranians wanted over the bombing.
Lagomarsino spoke to EL PAÍS at the office of his lawyer, Maximiliano Rusconi. 
Question. When and how did you meet Nisman?
Answer. It was through a mutual friend, but I don't remember when. Alberto had a problem with his personal computer. I went to his home and we became linked through a business relationship.
Q. When did your contract with the prosecutor's office begin in the AMIA case?
A. In the middle of 2007.
Q. Your monthly salary was 40,000 pesos [about €4,000 at the official exchange rate], but you didn't have to go into the office, which has raised a lot of eyebrows. What type of work did you do?
A. I assisted Alberto Nisman in everything that was IT. I reported to him, not to the prosecutor's office. At first, I was going to work for the prosecutor's office but he said "no, you are going to work for me." There has been a lot of talk about whether I was paid 40,000 pesos to make backup data copies, but the truth is that computer technology is much more than just making backups. Albert wasn't an easy person, but he wasn't a bad person either. He wanted things done now and I was obsessed with my work.
Albert wasn't an easy person, but he wasn't a bad person either"
Q. President Cristina Fernández suggested, on at least four occasions during a speech, that you had an intimate relationship with Nisman. What type of relationship was it?
A. Ask Cristina. I don't know what an intimate relationship is. If the president is referring to a homosexual relationship, I can tell you no. What bothered me about all this is that there are other people in the middle of it. My children are very young, but Alberto has a daughter who is already grown up.
Q.  You showed Nisman how to fire the pistol, but your fingerprints were not found on the gun. What do you think is the reason for this?
A. I don't know, my fingerprints should be there.
Q. Did you clean them off before you gave it to him?
A. No. They should be there. The technical reasons for this, I don't know.
Q. Nisman asked you for the gun to protect his daughters, like you have said. But his daughters were in Spain at the time. Did you ever think he was contradicting himself?
If the president was referring to a  homosexual relationship, I can tell you no"
A. I found out from the prosecutor that his daughters were not around. Beyond what my psychologist has told me about forgetting what I should or shouldn't have done, I try to remember little things that can tell me what happened. And I say to myself: If I had known that his daughters weren't around, I should have told Alberto "but your daughters are not here." And he would have answered me: "They are coming home tonight from their trip." I think that if he was on a mission to get a gun, he would have gotten one anyway.
Q. Did Nisman speak to you about his complaint?
A. He told me about it six or seven months back. One day he showed me the case file and said: "This is the complaint I am drafting against the president." And I asked him: "You are going after the president?" And he said: "Are you also going to start saying these things to me? I am sick and tired of people telling me that I am crazy."
Q. Do you believe it was a suicide, a forced suicide or a murder?
A. Right now, I think about all three possibilities and they are all mixed up in my head. When I think about one, there is the other possibility. I remember one night when I couldn't sleep, I was lying there staring at the ceiling –  I was like that for 10 or 15 days – and one night I said: "Alberto, if you could only just appear and tell me what happened." I believe a lot in signs, but there weren't any.
If he was on a mission to get a gun, he would have gotten one anyway"
Q. The last time you saw Nisman did he appear anxious?
A. Alberto was normally always in two states of mind: high or low. He could be euphoric at one moment and 10 minutes later was quiet. He was quiet on the last day I saw him.
Q. Is there anything else you would like to add?
A. Going back to the three possibilities regarding his death – suicide, forced suicide or murder. Alberto would completely change when he would talk about his daughters. If he didn't think about them at the time, why would he think about Diego? Then I start thinking that it could be murder. And to be truthful, I don't know what happened. But I do know on that January 18 Nisman died and with him the Diego Lagomarsino that I used to be.