Andorra: a haven no longer?
The Pyrenean principality faces major reforms, ending its status as a fiscal paradise
There were four people inside the car that was making the trip to Andorra. Xavi had called the bank the day before to provide the secret code number of a deceased family member's bank account, over which he had been given power of attorney. But he provided no further information about who would be collecting the money, nor the amount. The following morning, a bank employee was waiting for him. Xavi then wrote out the number of the account so a handwriting match could be confirmed. There was around €100,000 in the account, and a bank teller asked how Xavi would like the cash. "€100 and €200 bills," he replied. That day he withdrew €36,000, meaning that each of the four traveling in the car back to Spain would take €9,000 apiece, just short of the legal limit allowed without having to provide a letter of authorization from the bank. "Don't carry more than that amount on you," his accountant had advised him. Finally, Xavi signed a receipt with his code number, destroying it immediately, and he and the other three hid the money about their persons. The procedure would be repeated over the coming months until the account had been emptied.
Andorra in numbers
Population. 69,966, of whom 49.7 percent are Andorrans; 24.5 percent are Spanish; 13.7 percent Portuguese; and 3.8 percent French.
Andorra has no central bank. Its currency is the euro, and its GDP is €2.5 billion. Per capita income is €34,975.
Language: Catalan. Schools can also teach in French or Castilian. Health services are partly funded by copayment systems.
Social security. 4.5 percent for the self-employed; companies pay 14.5 percent for employees.
Like Xavi and his companions, a good number of the 7,000 people who cross into Andorra, the tiny principality that sits between France and Spain in the Pyrenees, are Spaniards collecting their savings deposited in one of the five banks here that still provide anonymity. The discovery earlier this year that Jordi Pujol, for more than two decades the head of the Catalan regional government, had salted millions of euros away in Andorran banks has prompted many people to begin withdrawing their funds, placed there to avoid paying taxes in Spain. At the border crossing, the police are on the lookout for large, expensive cars, typically with just one or two people inside, without skiing equipment, and usually passing through around midday. They stop vehicles and carry out regular searches.
No official figures are available yet for 2014, but over recent months, the Civil Guard has seized huge sums of money from vehicles leaving Andorra and coming back into Spain. Officers use specially trained sniffer dogs that can detect the smell of banknotes. Few travelers now make the mistake of carrying more than €10,000 on them, said Alberto Blanco, the officer in charge of a checkpoint at the Farga de la Mola crossing earlier this month, explaining that in 2013, the force seized some €3.1 million in cash, almost three times the amount in 2012. He says he and his officers have seen just about everything: a man who swallowed a bank receipt, baby strollers stuffed with notes, and even a couple in their eighties carrying a suitcase with €700,000 stashed in it.
At the border crossing, the police are on the lookout for large, expensive cars, with just one or two people inside
Blanco says that it's not hard to spot the people carrying cash when he and his men pull them over. "We always know if somebody is lying. And money makes people nervous," he explains while checking the latest figures on the amount of money seized this month.
The Jordi Pujol case, or the member of the General Council of the Judiciary who was stopped at the frontier with her sister and was found to have more than €20,000 in her car (she subsequently stood down from her post), or that of Spanish motorcycling champion Marc Márquez, who recently bought a property in the principality, have put Andorra under the spotlight, and there is a growing mood in Spain that the corruption and tax evasion that seems to have characterized recent decades has to stop. Not that the principality is worried about its image, as one bank employee who prefers to remain nameless puts it: "It's simply that our customers are scared that details about their accounts will be leaked to the Spanish authorities."
Andorra's economy is built on financial services. The principality's five banks, which make up 18 percent of GDP, manage some €40 billion in assets, providing work for around 2,500 tight-lipped employees. But banking secrecy, the foundations for its prosperity, is increasingly a relative issue: Spain stopped calling the country a tax haven in 2011 thanks to an agreement to exchange information that required Andorra to provide details about its banks' clients that were being tried or faced judicial investigation in Spain.
This tiny nation has finally begun moving toward full banking transparency, and in 2016 is due to join the community of countries with important financial services sectors that will share their banking information, but will only do so, say Andorra's authorities, if Switzerland and Liechtenstein do the same. For the moment, it will just provide information about individuals who might have accounts there if called on to do so by a court, the tax authorities, or in specific cases. For example, Spain still cannot demand to know which of its citizens have accounts there.
Which means that for the moment, Andorran banks will continue to do all they can to protect their customers' anonymity. But for many people, that's no longer enough, especially those involved in illegal activities. The Spanish police's recent operations against Chinese mafias operating in the country have shown that these criminals are deeply worried that Andorra will soon cease to be a safe haven for storing their ill-gotten gains, and that many have already begun moving their money to Switzerland and other offshore locations, safe from the prying eyes of the authorities.
The ongoing economic crisis has seen a drop in earnings (the country's budget is around €400 million), prompting the government to introduce economic reforms that include income tax, albeit at a maximum rate of 10 percent. This might seem too little too late, but the country has not seen such a radical move since the Constitution of 1993 and there is widespread hostility toward it. This is a traditionally closed society with a population of just 70,000, of whom only 34,800 are Andorrans. Family ties are strong in a country that covers just 468 square kilometers, of which barely one percent is urban.
Andorra's first Constitution transformed a country that was still run along semi-feudal lines – women didn't get the vote until the 1970s – into a democracy, meaning that its two heads of state, the French president and the Bishop of Seu d'Urgell, were finally given largely symbolic roles.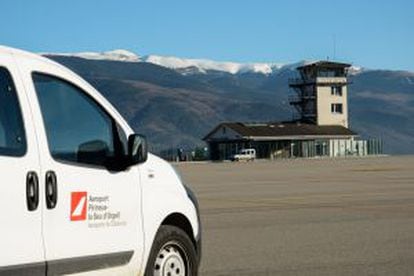 At the same time, the influence of the big families has been reduced to some extent, but they still retain a hold over the country, and particularly its banks. The most powerful families here are the Mora (MoraBanc), the Ribas Reig (tobacco and Andbank), the Cerqueda (which also run Andbank), the Cierco (owners of Banca Privada de Andorra and the Plaza hotels), or the Pérez (who own the Pyrénées shopping malls).
Needless to say, these families also have close ties to government. Among the 28 members of the Consell General, the Andorran parliament, as well as in the government, it's not hard to find people with one foot in politics and another in banking. This is not seen as a conflict of interest, says Finance Minister Jordi Cinca of the center-right Demòcrats per Andorra, which is headed by Toni Martí. "There aren't that many people to choose from here," he explains. Take Òscar Ribas Reig, three-times head of government and the honorary president of Andbank, a well-respected figure in Andorran society: "Because he doesn't lie about anything," says Cinca, adding: "Everybody knows where his interests lie, but even so, he was one of the main drivers behind the new taxes."
We always know if somebody is lying. And money makes people nervous"
The Calbó family is one of Andorra's success stories, making a fortune during the economic boom the country underwent in the 1960s. Its members made a living from growing wheat and raising livestock alongside 12 other families in the small community of Soldeu. "We did okay, but that's about it," says Josep Areny (Calbó is the name of the family's home) sitting in the reception area of one of the three spectacular five-star hotels the family owns and runs. He started out as a skiing teacher, then set up a sports shop, his first hotel, and kept expanding his business activities as the country developed into a skiing resort that now attracts some seven million visitors a year.
Andorra's economic growth outstripped Spain's in the 1960s and 1970s, and the capital city, Andorra la Vella, became a vast tax-free shopping center that attracted Spain's growing middle classes, keen to buy luxury goods still unavailable at home. Even some Andorrans admit that the country became overly dependent on tourism. "We were probably blinded by it all, and didn't really think about the future," says Calbó, who has also been involved in politics. "Andorra now has its own economic problems. We have speculated too much and we haven't looked after trade. We have been more concerned with quantity than quality. We've had it too easy."
The country's explosive growth (there are 73,694 vehicles registered to 70,000 inhabitants) has been driven by consumption (there are 1,400 shops, many of which are duty free) and low taxes. "If your neighbor bought a Mercedes, then you went out and bought one," says one businessman. But during the boom years, nobody was investing in manufacturing or trying to attract inward investment. Until two years ago, foreigners could only own a maximum of 49 percent of any business, or use fronts.
This tiny nation has finally begun moving toward full  transparency, and in 2016 will share banking information
Stores now charge sales tax, albeit a very low 4.5 percent, compared to Spain's 21 percent, while globalization and the arrival of huge, low-cost French and Spanish retailers have outsmarted the electronics and perfumes shops on Andorra la Vella's main strip, Meritxell avenue. "There are too many of us trying to sell the same things," complains a saleswoman at one electronics store.
So now the country is looking to broaden its appeal as a year-round destination. A new airport will bring some, as it is hoped the country's first casino will. There are even plans afoot to attract art lovers by opening a Thyssen art museum.
Nevertheless, Andorra remains a deeply conservative, traditional society, and one that is resistant to change. "There is widespread opposition to indirect taxes," says Cinca. "It's a cultural thing. People think the best way to prevent tax hikes is simply by not having them in the first place. I guess it's logical in a country that has never had them."
But Andorra has been forced to change in the past, and managed to come to terms with it; after all, this is an economy originally built on contraband. A great many fortunes in the country were made smuggling tobacco, and there are still one or two young people prepared to take the risk. The Civil Guard seized more than 10,600 cartons of cigarettes last year, along with 325 kilograms of rolling tobacco, all worth around €500,000. "Smugglers here are generally well-regarded by society," says the Civil Guard's Alberto Blanco.
Andorra now faces the process of adapting to changes to its banking secrecy laws, which means attracting customers on the basis of professionalism and experience. The principality is now moving toward an economic model like those of its neighbors, where people pay taxes. In short, a haven no longer.