Spain's invisible migrant children
Undocumented immigrants who arrive in Spain with babies are prey for trafficking rings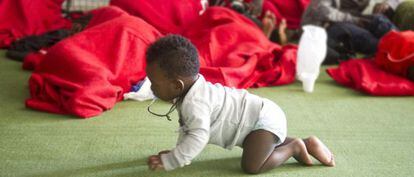 The babies' cries are a constant background noise at the immigrant shelter in this Andalusian city. The rooms of the great big building contain wooden cribs, washbasins with tiny clothes soaking inside, a toppled baby walker and everything else that is required to see to the needs of the 30 or so infants who live here at any given time.
They arrived on the Spanish coast a few days ago, and now their undocumented mothers are waiting for a call from the human trafficking ring that helped them get to Spain. This representative will tell them what day and time they will have to leave the shelter, never to return.
It will be of little use for workers to warn the mothers about the risk of human trafficking. These women will cross the threshold of the center with the babies in their arms and disappear into an underworld of brothels before the helpless look of the non-profit groups and the police.
The children might be located again, months or even years later, during a police raid against one of these brothels. Or maybe not.
Hundreds of kids who entered Spain as illegal immigrants are in the hands of human trafficking rings, outside the Spanish government's control, say organizations that work with victims of these rings.
The Córdoba Attorney's Office estimates that 83 minors may be at the service of criminal rings at the moment.
In recent times, authorities have noticed a change in illegal immigration patterns: whereas the majority of migrants used to be single adult males, there are now growing numbers of women with babies and children in tow.
So far, the government has not found a legal way to offer these minors the protection they need.
African babies are essentially functioning as entry visas for their mothers, and they are also used by the mafias to blackmail these women later on.
If a woman reaches Spain with a baby in her arms, she is taken to an open center that allows her to walk in and out freely. If she comes alone, however, she runs the risk of ending up in a migrant internment center (CIE) and possibly being deported.
That is part of the reason why there are so many pregnancies and childbirths during the long journey from Africa to Europe — a trip fraught with systematic rape.
Once in Spain and under the government's radar, the traffickers separate the children from their mothers, who embark on years' worth of exploitation in brothels to repay their debt to the ring, either in Spain or other European countries.
The babies are taken in by a "mommy" who is part of the ring, and used to blackmail the mothers: if they want their children to eat and stay safe, they have to repay their debt by working hard as prostitutes.
"The children are part of the business from day one," explains Teresa Fernández, a lawyer at Womenslink, a group that monitors human trafficking. "The ring decides whether the pregnancies will be carried to term or not. It decides when the women travel and with whom. Later, the victims move around a lot depending on the degree of police harassment. And the children do not necessarily go along with their mothers."
Police operations, and the few existing testimonies from victims who become protected witnesses, shed some light on this sinister criminal activity.
This past summer, the police arrested members of a ring in Madrid, Toledo and France who were holding a three-year-old and a five-year-old in captivity.
Months earlier, in Valmojado (Toledo), the police found two children around three years of age inside an apartment, showing signs of sedation, malnourishment and flesh wounds indicating where they had been tied to their beds, according to the police report.
Two years ago, in Puente Genil, a Nigerian "mommy" killed a nine-month infant in her care.
There could be hundreds of children scattered throughout Spain at the moment"
Rosa Flores, Red Cross
Evidence suggests that these cases are just the tip of an iceberg of unknown proportions. Between April 2013 and April 2014, the Red Cross counted 89 cases of women arriving with small children or babies and showing signs of being exploited by trafficking rings.
"There is a generalized lack of data regarding the number of minors who are the victims of human trafficking," concludes a 2012 report by the Ombudsman's Office. "There are very few solvent identification procedures."
And even though authorities introduced a new measure last year making it mandatory to register all babies arriving illegally into Spain and conducting DNA tests on them, nobody knows how many came before that, where they are, whether they are going to school, seeing a doctor when they are ill, or whether are being held somewhere.
Even for those who get registered, there is no subsequent information about the conditions they are living in, or whether they are even still in Spain.
The moment they come out of the immigrant shelters, they simply become invisible. They are there in the databases, but nobody comes looking for them.
"There could be hundreds of children scattered throughout Spain at the moment," figures Rosa Flores, who is in charge of programs to fight human trafficking at the Red Cross.
Womenslink shares this view. In 2013, the first year that minor registration went into effect, the police counted 29 children who were the victims of trafficking rings.
"Some are quickly located, but others take years to find," explains José Nieto, chief inspector of the Central Unit against Immigration Rings and Document Forgery (UCRIF).
The juvenile attorney's office in Córdoba is considered a pioneering agency on the subject, although Attorney Carmen Rubio feels there is still much left to do.
"The biggest problem is our lack of resources," she laments. "This past summer was overwhelming. Women with their alleged children in tow would deny being the victims of any trafficking ring, then walk out in front of our noses and be lost to us."
Rubio believes that the arrival of children has caught authorities unprepared.
"This is a very new reality. The protection services were not ready," she says.
And while progress has been made, it is not enough.
Making the children wards of the state is not a good option for some organizations
"We need awareness campaigns, training and audacity of the type that was shown in the fight against gender violence," she adds.
Declaring the children abandoned, separating them from their mothers and making them wards of the state is not a good option for some organizations.
"We run the risk of the government being too protective and taking custody away from mothers," says Rosa Cendón, coordinator of the religious group Adoratrices-Sicar. "If this occurs, she will be twice a victim."
Around 20 percent of victims of human trafficking in Europe are under age, according to a recent United Nations report.
Immigrant children began showing up in Spain in 2007, aboard migrant boats that were once the main mode of entry into the country.
"Little by little we came to realize that these women had no migratory project. They didn't even know what country they were in. They didn't know anyone here," recalls Flores. "The next day, their 'brother' came to pick them up and that was the last we ever saw of them."
The Red Cross began documenting these cases, and by 2009 they had already counted 300 minors. They also realized that many of those women were not really the mothers of the children they held in their arms.
Raids yielded children whose DNA was tested against that of their supposed mothers, but was often negative
They concluded that the trafficking rings kept taking the children in and out of Spain in the arms of different women.
At the same time, police raids began yielding children whose DNA was tested against that of their alleged mothers, and often came back negative.
Since then, there has been a drastic drop in the number of women arriving in Spain with other people's children.
It was then that the Ombudsman recommended keeping records of the children coming into Spain, and that the police began taking their photographs, fingerprints and DNA samples.
While progress is evident, the reality shows there remains much to be done. Milagros Núñez, head of Humanitarian Aid and Immigration at the Red Cross, worries about the negative consequences of Spain's decentralization, which leaves it up to regional governments to find a solution. Núñez wants a nationwide registry and "a follow-up protocol for the victims of human trafficking who come with children."
But the depleted government initiatives are running into the misgivings of women who trust the traffickers more than they trust the State. They think that once they repay their debt, the ring will return their children to them. They're not so sure about the State. That is why they don't file any complaints, preferring to remain silent as the grave.