ABUSE IN THE CATHOLIC CHURCH
Second former altar boy accuses Granada priests of sexual abuse
Alleged victim was underage when the Romanones group took advantage of him
A second former altar boy has filed a formal complaint against an alleged pedophile priest ring from Granada.
The man, who helped officiate Mass when he was aged between seven and 14, is the person mentioned in the letter sent to Pope Francis by another alleged abuse victim.
In the letter the first victim wrote: "Dear Holy Father: they also abused a friend of mine." Now, the friend has apparently stepped forward to support the claim.
"They really insisted on telling me and teaching me that if I didn't live with them and went where they told me to go, I would have to leave the group as I would no longer be following the doctrine of God," says the second alleged victim of the Romanones group, whose name derives from its alleged ringleader, Román Martínez. "They would start telling me about sin."
"All of this has been dramatic, it has marked my life," he adds. "I would feel their erections touching me, and they would tell me not to be afraid. Sometimes I saw them kissing each other on the lips when they met, and I thought that this was not natural."
This second testimony reinforces the case, which until now had nothing but the original complaint to go on. A dozen people questioned by the police said they had not been victims of sexual abuse and had noticed nothing strange in the suspects' behavior.
Three priests and a layperson, a religion teacher, have been arrested so far, although eight more people are under scrutiny for potentially acting as silent witnesses to the years-long abuse.
The arrests took place inside a house in Pinos Genil, Granada province, owned by the alleged ringleader. A search of the property found that all the files stored on two computers had been deleted. The police took away the hard drives to extract the missing information in search of evidence to back up the plaintiffs' claims.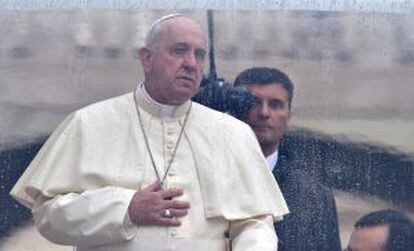 Sources familiar with the investigation said the fact that the contents of the computers had been  erased suggests the suspects "have something to hide."
The Romanones group owned close to 20 homes in or near Granada, which are now also being investigated by the police.
On Tuesday, Pope Francis confirmed to reporters that he had received the letter from an alleged victim, now aged 24, and that he had personally called him back to apologize "in the name of the Church of Christ."
The pope also said he had set an internal investigation into the allegations in motion to deliver on his promise of zero tolerance for sexual abuse within the Church.