The rise of Spain's YouTubers
Young, self-taught online video-makers are giving the TV networks a run for their money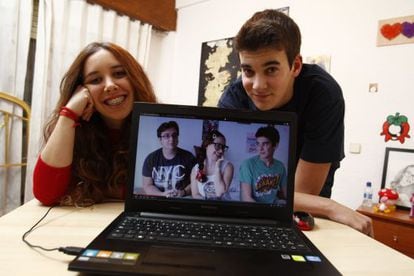 When he was a teenager, Miguel Ángel Rogel used to spend most of his time playing Grand Theft Auto; so much so that in 2008, the then-17-year-old decided to record his adventures in the virtual US underworld and put them on the internet. Then one day he decided to post a short film he had made at his home in the small town of Algarinejo, Granada province, on YouTube.
Six years later he's known as MangelRogel, has 3.2 million subscribers to his channel on the video-sharing website, and is watched by around nine million people each month. "It just happened," he says, adding that he always wanted to make films. "But I never thought it would be possible to make money out of this."
Rogel is a YouTuber, someone who devotes himself to recording, posting and making a living off his video creations via the site. In his videos he tells the world about his life, offers health and grooming tips, creates humorous sketches, talks about new technology, and shows himself playing the latest videogames. Now numbering in the millions,YouTubers like Rogel have begun to attract the attention of brands and advertisers.
YouTube in figures
More than one billion people around the world visit YouTube each month, 20 million of them from Spain.
YouTube has 22 different kinds of advertising, and keeps around 45 percent of revenue from publicity.
For every million people who view a video, around $1,000 is generated.
Success begins when you start attracting at least 50,000 subscribers, or more than one million hits a month.
The YouTube phenomenon has also begun to worry television companies. Last week, for example, around four million people tuned in to watch the final episode of Antena 3's series Velvet, a soap opera set in a glamorous Madrid fashion store in the late 1950s. It was the biggest audience the broadcaster had managed to attract so far this year. But at the same time Velvet was being broadcast, millions of young Spaniards were sitting in front of their computers watching home-made videos on YouTube such as those made by EIRubius, one of Spain's best-known YouTubers, whose videos regularly attract more than two million views.
To give some idea of the marketing potential of YouTube, last year in the United States, the website generated advertising worth almost $2 billion, according to digital marketing company Emarketer – a 65.5 percent increase on 2012.
"We're largely self-taught," says Kevin Prieto, known to his fans as LokOfLucky, who produces comedy sketches with Abigail Frías out of the apartment they share in Jerez, Cádiz province. "We write the scripts, record, and edit, all from home." Frías's two channels, Abi Power and Adelita Power, have attracted 300,000 subscribers, and bring in around €500 a month. "I'm not the best known by any stretch, but I am starting to make a living from this," she adds, explaining that the first target for any would-be video star is 50,000 subscribers, or more than one million views a month.
Now numbering in the millions, YouTubers have begun to attract the attention of brands and advertisers
Successful YouTubers in Spain can earn between €2,000 and €3,000 a month, especially if they know tricks of the trade such as when to post their videos. "Prime time is between 10pm and 11pm, because of the Americans," says Rogel.
Toni Garrido, a veteran radio talk show host, says leading YouTubers in the United States make between $500,000 and $5 million a year. Hoping to take a slice of the cake, he's just opened the Spanish affiliate of Maker Studios, an American company that is now the biggest producer and distributor of YouTube content in the world. Maker's network attracts around 153 million visits a month in Spain, the company says. "This is a medium that is creating a lot of expectation," says Garrido. Disney has just forked out $950 million to buy Maker.
Garrido says that successful YouTubers – "who know what works, what the trends are, and what people like" – are able to command huge sign-up fees. He talks about the intangible value of online influence and the ability of YouTubers to attract the so-called Millennials, the generation born after 1980, who seem to have little interest in television.
"I don't watch television, that's not the way I work," says 22-year-old Abraham Bandera, a former law student better known to his online fans as Señor Cheeto. He attracts around a million viewers to his channel where his activities include anything from unboxing a cucumber (a well-known practice on YouTube that involves providing a commentary while unwrapping a present), or making a documentary about his favorite bar. He says his life changed after appearing in a video made by Rogel: "I became a star over night." YouTube is Spain's most-viewed website, receiving around 20.5 million visits a month, making it the fourth-most-watched channel in the country.
The growing popularity of YouTube has seen the emergence of multi-channel networks (MCNs), companies focused on "programming, funding, cross-promotion, partner management, digital rights management, sales and audience development in exchange for a percentage of the ad revenue from the channel," explains Pedro Bernar of Spanish MCN Base 79, which has just been bought for €60 million by London Stock Exchange-listed digital video business Rightster.
"We're trying to increase monetization by working with brands," says Claudia Murawski by email from Divimore, a Berlin-based MCN. YouTube's accounts are a complex affair. The company offers 22 different types of advertising: some it manages itself, while the rest are handled by MCNs. YouTube keeps around 45 percent. For every million views, around $1,000 is generated for the creator. "If you have an intermediary, they keep between 20 and 30 percent," says Frías.
"It's a fresh, approachable, fun, and natural medium," says Prieto. "Part of its success is based on a strong connection with viewers, and you don't have to worry about what time you broadcast."