Supreme Court to investigate former Andalusian premiers in ERE case
Role of politicians Manuel Chaves and José Antonio Griñan in scandal to be examined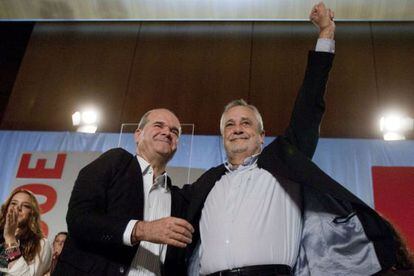 The Supreme Court is to open an investigation into two former regional premiers in Andalusia for their alleged role in a wide-reaching corruption case involving the misappropriation of public funds.
The so-called ERE investigation is exploring allegations that scores of people received illicit payouts from a fund that was set up by the Socialist government in 2001 to help firms make severance payments to laid-off workers.
The Supreme Court will be investigating the "direct or indirect" role that one-time Andalusian leaders Manuel Chaves and José Antonio Griñán – both of the Socialist Party – may have played in the design of the ERE fund scheme, which doled out as much as €855 million between 2000 and 2010.
The ERE case – which takes its name from the Spanish acronym for a mass layoff plan – has been under investigation in the courts in Seville for over a decade, but part of the probe will now pass to the Supreme Court on the request of the public prosecutor.
Former regional Socialist politicians Gaspar Zarrías, Mar Moreno and José Antonio Viera will also be investigated. Given that all five are still either deputies or senators, under Spanish law they can only be investigated by a higher court, not at the local level.
Griñan and Chaves have already stated that they will appear in the Supreme Court voluntarily should they be summonsed.
Supreme Court magistrates have decided that arguments sent to them by the investigating magistrate dealing with the case in Seville, Mercedes Alaya, contain evidence that "within the Andalusian regional government, specifically the employment department […] a system was organized […] that allowed for payments to be made […] totaling as much as €855 million without the necessary procedures and controls that should have been in place for such subsidies […]."
The magistrates believe that the facts laid out by the by Judge Alaya could constitute perversion of justice and misappropriation of public funds. The writ concludes that it is "essential to continue to investigate the facts and the participation of" Chaves, Griñan, Viera, Zarrías and Moreno.
None of the five has so far been named as official suspects in the case.