Ex-PP secretary general becomes latest target in secret ledgers probe
Judge to quiz Ángel Acebes about alleged use of slush fund to buy shares in media firm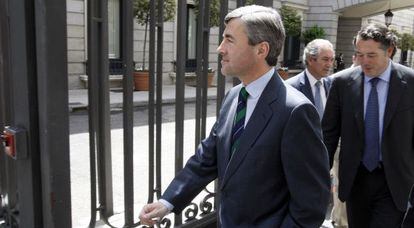 Ángel Acebes, a former top official in Spain's Popular Party (PP), has become entangled in an ongoing investigation into secret party accounts that point to illegal financing and the payment of undeclared cash bonuses to top leaders between 1997 and 2008.
Acebes, who was three times a minister in the late 1990s and early 2000s, as well as party secretary general between 2004 and 2008, will have to appear at Spain's High Court on Tuesday to answer questions about money allegedly taken from this secret fund to buy shares in online media group Libertad Digital.
Investigating judge Pablo Ruz is trying to determine whether Acebes may have allowed funds to be misappropriated "due to his responsibility regarding awareness and authorization of the operation."
Last April, former PP treasurer Luis Bárcenas told the judge that the conservative party participated in Libertad Digital's capital expansion. According to Bárcenas, Acebes asked the previous treasurer to find businesspeople willing to help by buying shares in Libertad Digital.
Then-treasurer Álvaro Lapuerta got in touch with entrepreneurs and raised some funds, but fell short of expectations. It was then that Lapuerta spoke with Acebes and suggested using money from the PP's secret fund to buy more shares while putting them in other people's names, according to Bárcenas' court statements.
The police have investigated these allegations based on handwritten items in the 2004 and 2005 ledgers kept by Bárcenas.
Bárcenas, who was treasurer of the PP for 20 years, faces possible charges of money laundering and tax evasion. He is implicated in the Gürtel kickbacks-for-contracts scandal, which first broke in 2008. During the ongoing investigation into the corruption ring, it emerged that Bárcenas had a bank account in Switzerland containing as much as €22 million. The origin of that money remains unclear.
The investigation into the secret PP accounts kept by Barcenás is an offshoot of the larger Gürtel probe, which has affected many top PP officials.