Woman caught trying to smuggle cocaine in her breast implants at Madrid airport
The Venezuelan national was rushed to hospital after she confessed to police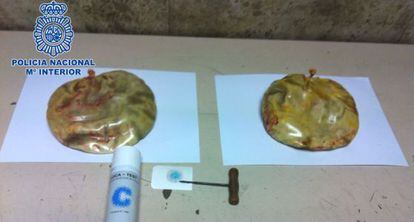 A 43-year-old Venezuelan woman has been arrested at Madrid's Barajas Airport after she was caught trying to smuggle 1.7 kilos of cocaine in two breast implants that had been inserted into her.
National Police sources said the attitude and behavior of the woman had aroused the suspicions of narcotics unit officers during passenger screening after she arrived purporting to be a tourist on a flight from Bogotá, Colombia, on Friday.
After watching officers search her luggage, the woman confessed that she was carrying cocaine in her implants. Given the risk to her life, she was immediately rushed to a Madrid hospital where she was treated and later arrested.
The objects that traffickers employ to smuggle drugs into Spain are highly diverse, according to a National Police press release. Book covers, under wigs, in "plaster" casts made from cocaine on legs, beneath diapers, and in toys and food are all among the methods used.
Up until July 15, officers at Barajas Airport had seized 483 kilos of cocaine, six kilos of heroin and arrested 189 people for crimes against public health this year.