Protestor lost eye as result of police rubber bullet, Barcelona court rules
Catalan government had blamed violent rioters for incident during 2012 general strike Victim Ester Quintana wants to see officials step down over her case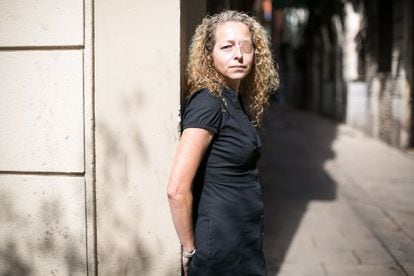 Ester Quintana, the woman who lost on eye while protesting during the general strike of November 14, 2012 in Barcelona, was not hurt by hooligans but by a rubber bullet fired by the regional police.
A Barcelona court handed down the ruling after dismissing suggestions by the Catalan commissioner for internal affairs at the time, Felip Puig, that violent rioters were to blame for the incident.
Judge Francisco González Maíllo based his pre-trial findings on forensic reports, video footage and witness testimony.
But the plaintiff's request that the police officer and his superior be tried for causing intentional injury has been dismissed. The judge found that the law enforcement officers' actions were "imprudent and out of proportion," but that there was no wilful desire to harm Quintana, 42.
"The Mossos d'Esquadra [the Catalan police] always denied having fired rubber bullets that day. This thesis has been maintained from day one by the interior department and by Mossos d'Esquadra leaders," notes the judge.
The case triggered a government ban on the use of rubber bullets
The case triggered a government ban on the use of rubber bullets. Instead, riot police now use rifles that fire viscoelastic foam pellets.
Police director Manel Prat said at the time that he would step down if it were proven that a rubber bullet had caused Quintana's injury. On Wednesday, several political parties asked him to honor his pledge.
"The role of Manel Prat in this crisis and his management as a whole is really hurting the credibility of the Mossos d'Esquadra and eroding citizen trust," said the Socialist Party's Ferran Pedret.
In recent months, the Mossos have been involved in several cases of alleged police brutality. In April two men died within 24 hours after being arrested by Mossos, although no evidence of ill-treatment has so far been found.
Quintana wants to see officials resign over her case, she told Catalan radio stations following the court's resolution.
"There are people in the interior department and in the Mossos who denied in every possible way that rubber bullets were used," said Quintana, in a clear reference to Prat. "Nobody has called me to apologize."
But the Catalan interior department issued a statement noting that the judge's findings were based on circumstantial evidence and celebrating his decision not to try the police officers for causing intentional injury. No resignations are expected.