RACISM IN SOCCER
"We are all monkeys"
Barça's Dani Alves eats banana thrown onto pitch by soccer fan in racist incident Neymar lends his support to Brazilian teammate on social networks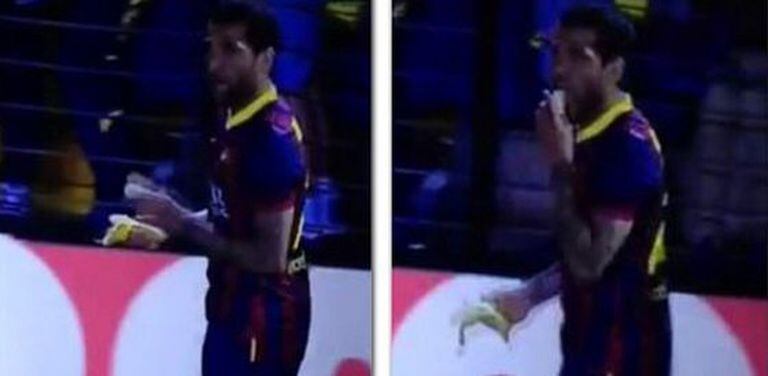 Barcelona right-back Dani Alves was the victim of a racist taunt during his team's away match against Villarreal on Sunday, when an opposition fan threw a banana at him from the stand.
But rather than get angry at the gesture, the Brazilian player proceeded to calmly pick up the banana, bite a piece off and throw the rest away, before getting on with the match, which Barcelona won 2-3, as if nothing had happened.
The incident was recorded by referee David Fernández Borbalán and Villarreal may now be sanctioned by the Spanish Soccer Federation's Competition Committee, which is scheduled to meet on Tuesday.
"As my father always told me: son, eat bananas, they stop you from getting cramp…"
"In the 75th minute, and when he was getting ready to take a corner kick, number 22 of the visiting side, Mr Daniel Alves Da Silva, had a banana thrown at him in the area close to assistant number 2," Fernández Borbalán noted. "It was quickly picked up by the player, who ate a portion of it, throwing the rest of it off the field play, and resuming the match with complete normality."
"You have to treat these idiots like a joke," Alves commented after the match. "I've lived in Spain for 11 years now, and it's been 11 years of the same thing."
The defender went on to praise his team's efforts on what was a sad day for the club, which was playing its first match since the death of former coach Tito Vilanova on Friday. "We demonstrated that in life you have to fight for your objectives. If you can't achieve them, it is not because you didn't fight for them."
Alves later posted a video of the incident on his Facebook page and elaborated further: "As my father always told me: son, eat bananas, they stop you from getting cramp…"
His Barcelona teammates also offered their support. "We are all monkeys," wrote fellow Brazilian Neymar, who is injured and watched the match on television. "Say no to racism."