politics
Rajoy avoids Cabinet reshuffle with appointment of new agriculture minister
Current general secretary of department, Isabel García Tejerina, to replace Miguel Arias Cañete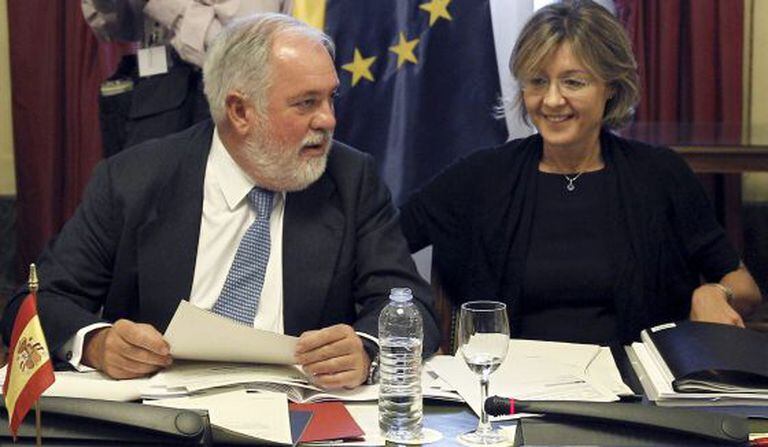 Prime Minister Mariano Rajoy has named Isabel García Tejerina as his new agriculture minister, to replace Miguel Arias Cañete, who will be running as the Popular Party candidate in the upcoming European elections. García Tejerina, 45 and from Valladolid, is stepping up from her role as general secretary of the ministry.
Veteran allies of the prime minister were not expecting Rajoy to make any major changes to his Cabinet ahead of the elections. And if he can avoid it, nor will he do so afterwards, the same sources explain. The prime minister is keen to avoid change, and is reported to have said that if he can, he will see out his legislature without a crisis in the government – something that no prime minister has managed to do since Spain returned to democracy.
Only a serious loss at the polls on May 25 would make the PP nervous, and could force Rajoy into making changes. However, a Metroscopia survey for EL PAÍS does not suggest that this will be the case, and if the PP emerges victorious from the European elections, the prime minister will not be lifting a finger.
Rajoy is convinced all of his political problems will come to nothing should the economy start to improve
The news of the appointment of Isabel García Tejerina confirms the hypothesis that Rajoy is not seeking to make major changes, given that the former general secretary has a purely technical profile and is an unknown in the political world.
Speculation abounded as to whether a reshuffle was imminent, particularly given that many of the ministers in place in Rajoy's government are suffering greatly in the polls. Take Education Minister José Ignacio Wert, for example, whose unpopular reforms in the sector have seen him in a state of almost permanent conflict. But the PM values his team, in particular thanks to the loyalty that they continue to show him.
According to sources close to Rajoy, the prime minister is convinced that all of his political problems will come to nothing should the economy start to improve, because voters will then forget the first part of his legislature, which was dominated by spending cuts, tax rises and social unrest. For that reason, in contrast to what has happened in other European governments – such as that of France, which has just seen a reshuffle after an electoral disaster – Rajoy is not planning on relieving his damaged ministers. His strategy consists of resisting, letting the months go by and trusting that an improvement in the still-struggling economy will bring an end to his political problems.