latin america
Venezuelan court strips Machado of her assembly seat
Opposition leader vows to continue to serve her supporters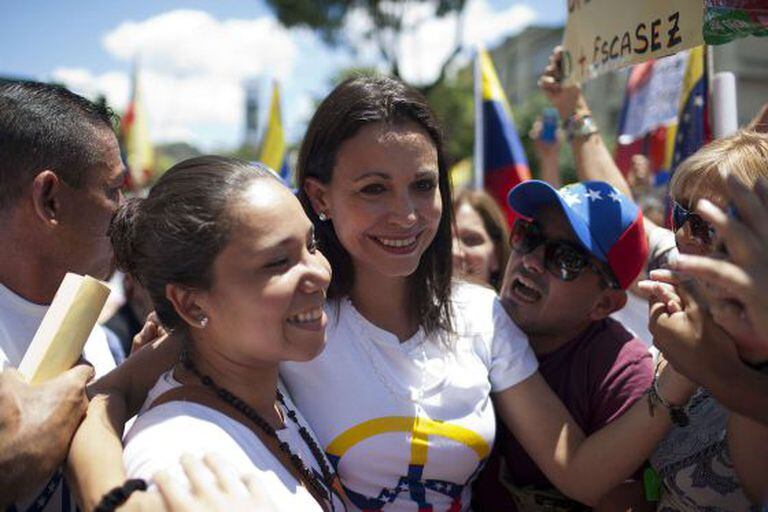 The Venezuelan Supreme Court on Monday night announced that it has decided that opposition deputy María Corina Machado can no longer hold her seat in the National Assembly because of her recent decision to accept a position with the Panamanian delegation at the Organization of American States (OAS).
The top court announced in a bulletin that "after a careful analysis," it ruled that Machado's move to sit with the foreign delegation while still holding her post as deputy "was incompatible" with the law.
Panama gave Machado a seat with its delegation on March 21 in order for her to speak before the OAS about the situation in Venezuela. However, Venezuela's leftist allies at the OAS voted against her taking the floor. Venezuela broke relations with Panama after the government in the isthmus nation asked the Washington-based regional organization to open an investigation into the Venezuela crisis.
A former presidential candidate, Machado has said she will fight the ruling at the international level.
Deputies from the ruling United Socialist Party of Venezuela (PSUV) had asked the Attorney General's Office to open an investigation into Machado for treason and fomenting violence that occurred when she and fellow opposition leader Leopoldo López called a nationwide protest on February 12 to demand the resignation of President Nicolás Maduro. Since then, at least 39 people have died in the ongoing clashes between demonstrators and police, who have reportedly been assisted by armed groups loyal to the government. More than 600 others have been injured and security forces have so far made 2,000 arrests, including that of López who is being held at a military prison outside of Caracas.
With Machado stripped of her parliamentary immunity, she could face trial on criminal charges stemming from the riots.
On March 24, National Assembly speaker Diosdado Cabello had already declared that Machado had lost her seat for joining Panama at the OAS, which violated articles 146 and 191 of the Constitution. But Machado has insisted that she will still take her seat in the assembly because the entire process has been illegal.
"It is my duty and my will and I know you want me to continue representing you at the National Assembly," Machado said in a televised address to her supporters after the ruling was announced.
On Monday during a television program, Cabello, who is considered the second-most powerful politician in Venezuela after Maduro, celebrated the top court's ruling. "Don't get dressed because you are not going anywhere," he said, repeating a popular Venezuelan saying.