Arrested protestor from Dignity March facing attempted murder charge
Hundreds of people congregate outside Madrid courthouse to demand release of detainees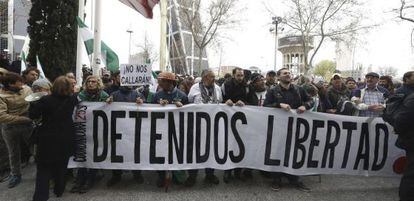 Hundreds of people congregated outside court buildings in Madrid's Plaza de Castilla on Monday, to demand the release of 21 people who were arrested on Saturday during the so-called "Dignity March," which brought demonstrators from all over the country to the capital to protest against the government's austerity measures. Among the detainees is 21-year-old Miguel M. S., who is accused of having thrown a large rock at the head of an officer from the UIP riot police unit. Police sources say that the young man is likely to be charged with attempted murder.
The duty judge ordered that Miguel M. S. be remanded in provisional custody without bail on Monday evening, on the basis of additional evidence of a number of offenses. The move marks the first time in recent years that a participant in a demonstration has been accused of such a serious crime.
The arrests took place during violent scenes that broke out after the march on Saturday evening, when groups of protestors ripped up paving stones and threw them and other objects from café terraces (umbrellas, tables and seats) at police officers. During the trouble a total of 101 people were injured, including 67 officers and 34 demonstrators.
The protestors reportedly
fired steel balls at the legs
of riot police using catapults
The majority of the detainees are from Galicia, according to police sources, who also reported that they arrived by train in a group of around 400 people. Among them, say the same sources, were people with links to radical Galician nationalists. The police reported that their behavior took them by surprise, and immediately distinguished them from violent elements usually seen in Madrid. The protestors reportedly fired steel balls at the legs of riot police using catapults, which sent the officers falling to the ground. They also damaged a large amount of street furniture, and threw whatever they could get their hands on against stores, banks and cafés.
Also among the detainees are two men from the Basque Country, an Italian and a woman from Zaragoza with links to the United Left political bloc, according to police sources. The remainder are mostly from Madrid, and had previously been arrested in similar incidents of street violence.
The majority are being held for public order and criminal damage offenses. As well as the 21 adults in custody, the police are also holding three minors.
Miguel M. S. is alleged to have been among a group of protesters who beat a riot police chief until he fell to the ground. The group is reported to have kicked off his protective helmet, which is when Miguel M. S. is accused of having thrown a large rock at the officer's head. Despite being half-unconscious, the officer managed to move his head and avoid the impact. He was later treated in hospital for his injuries, which included a large gash on his head, that had to be stapled closed.