Venezuela admits law enforcement used excessive force during protests
Prosecutor's office says it is carrying out around 60 internal investigations into complaints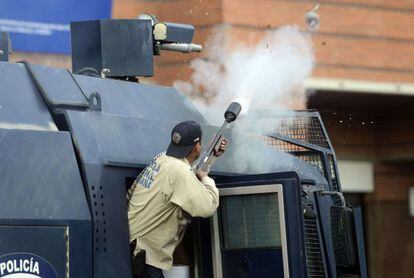 Since violent protests and unrest began in Venezuela in early February, thousands of videos and pictures have been posted on social networks showing brutal incidents – including abuse by police officials and armed groups – that, until now, the government of President Nicolás Maduro had refused to recognize.
But these images now appear to have had their effect.
On Saturday, Venezuelan authorities publicly acknowledged that law enforcement security officers used excessive force during clashes with peaceful marchers and other demonstrators who have tried to block streets and set up barricades on roads.
Since the nationwide protests began on February 12, at least 35 people have been reportedly killed in the unrest and more than 2,000 have been arrested.
Attorney General Luisa Ortega Díaz, who is known to have made decisions in support of the government, said on a television program that her prosecutors were investigating about 60 complaints. She emphasized that it was not the state's policy to crack down on dissent through violence. In her opinion it contrasts with the repression that took place against opponents during the years before the late President Hugo Chávez took office in 1998.
According to Ortega Díaz, the opposition has unleashed a campaign to try to provoke security officials to react violently in an effort to try to demonstrate that the National Guard was committing human rights abuses.
One sergeant allegedly used his helmet to beat a female demonstrator in Valencia
Nevertheless, she has acknowledged that some guard members have been involved in abusive attacks.
The protests have been called by the opposition to demand Maduro's resignation and more action from government in dealing with soaring crime, high inflation and rampant food shortages.
National Guard commander Justo Noguera Pietri also made similar concessions when he met with a group of journalists who gathered outside the force's headquarters in Caracas to protest the arrest of Mildred Manrique, a reporter for the daily 2001, while she was covering a protest.
While saying that he was carrying out his duties "on behalf of the homeland and under the legacy of the supreme commander" – Chávez, who died on March 5, 2013 – Noguera stated that some of his officers were being investigated by prosecutors, precisely for assaulting demonstrators. One such case has been the inquiry into a sergeant for allegedly using his helmet to beat a female demonstrator in Valencia, Carabobo state; the incident was filmed by onlookers and posted on the social networks.
The commander also prohibited the arrest of any person using their cellphone or other device to record incidents on the streets.
The death toll from the demonstrations rose to 35 when a 28-year-old pregnant woman was shot during a protest held in Los Teques, Miranda state, over the weekend.