CINEMA
Film academy chief to step down
González Macho says his decision is final - unless "strange and dangerous" candidates emerge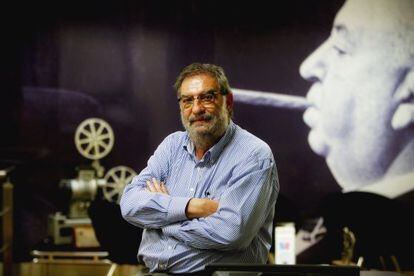 Enrique González Macho, president of the Spanish Academy of Motion Arts and Sciences, is stepping down after three years in the director's chair. Although he has many supporters inside the academy who have entreated him to stay, González Macho is adamant: he is leaving and there's nothing anyone can do about it.
That is, unless the candidates to succeed him represent options he finds "strange and dangerous for the Academy." So far, no contenders who fit this description have stepped up.
"My decision is final: I want to go because my mandate is coming to an end (in theory, the deadline is April 10) and also because I want to leave behind everything to do with the film industry," says this well-established producer and distributor.
But then comes the caveat.
"It's not that I feel like a savior or anything, but I'm not ready to let so much work go down the drain," he adds.
So if no convincing candidates show up to replace him at the helm of the institution that organizes the annual Goya Awards, González Macho just might consider a run for re-election despite his apparent reluctance.
In other words, González Macho wants to see a successor who will preserve his own achievements and carry forward one of his favorite projects: a federation of Ibero-American film academies, which currently includes Spain, Portugal, Brazil, Argentina, Colombia, Mexico, Argentina and Chile.
González Macho also wants to find greater funding for the Goya Awards, which have met with widespread criticism over their current format.
This last year has been a traumatic one for the owner of the Renoir movie theaters. His company Alta Films finally went under after struggling with online piracy, a higher rate of value-added tax, TV broadcasters' lack of interest in auteur films and low attendance at movie theaters. Where he once had 200 screening rooms operating across Spain, there are now barely 20.
When he goes, there will also be some bitterness over the fact that one of the last incidents of his tenure was the pointed absence of Culture Minister José Ignacio Wert at the Goyas. "I think Wert was wrong not to go, and I told him so."
The Academy board will make its call for candidates this week, and accept nominations until April 10. Voting by Academy members will take place between April 18 and May 24.