NEYMAR CASE
Prosecutor wants Barcelona FC named official suspect in Neymar case
Club failed to pay over nine million euros in tax relating to Brazilian's signing, says court attorney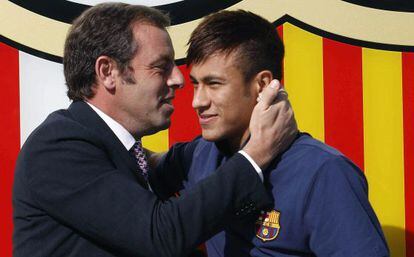 The public prosecutor at Spain's High Court has asked for Barcelona soccer club to be named an official suspect in the investigation looking into alleged financial crimes committed in 2011 and 2013 arising from the contracts related to the club's signing of Brazilian star Neymar.
In a writ presented to the court on Wednesday morning, the public prosecutor considers that the Catalan club failed to pay over nine million euros in tax by not declaring all the contracts involved in the transfer of the soccer player.
"There is a whole series of contracts that show signs of simulation, as well as financial engineering operations," the writ reads. The report concludes that these may involve an alleged fraud of a quantity "that far exceeds the 120,000-euro limit for tax evasion set in the penal code." A quantity of unpaid tax in a year over that limit gives rise to criminal responsibilities.
Seven of the 10 contracts the prosecutor refers to in the writ are signed by the current club president, Josep Maria Bartomeu. His predecessor, Sandro Rosell, stood down last month after he was the object of a private lawsuit accusing him of benefiting illicitly from the Neymar deal.
The prosecution believes that the part of the transfer fee not included in the tax settlement is 37.9 million euros, suggesting evasion of 9.1 million euros on the part of the club.