WINTER OLYMPICS
Medal hope Carolina Ruiz fails to finish downhill at Sochi Games
Spanish skier crashes out near the finish as two women share gold in unprecedented Olympic tie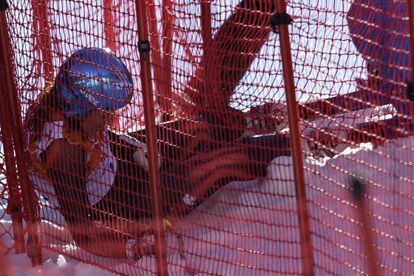 Spain's top skier, Carolina Ruiz, had headed to the Sochi Winter Olympics with high hopes and the desire to win a medal in her fourth Games. She felt in good form and, once there, her training sessions on the dangerous route at the Rosa Khutor ski station also went well.
But on Wednesday morning, after completing most of the course competing in the downhill, just before the last slope leading to the finish line, she lost control and crashed into one of the barriers.
"I went very well on the upper part, then I made a mistake," explained 32-year-old Ruiz, who last year became the first Spanish skier to win a World Cup downhill event. "I pretty much controlled it but I found it difficult to recover. I reached one zone a bit behind, a bit to the inside and caught a bump and fell. I didn't have the chance to recover or anything."
"Sometimes it just doesn't happen and that's it," she said. "It's just one lost race. It is worth just one medal, if you go out or end up 10th, it's all the same."
Ruiz said she had some discomfort in her knee following the fall, but it was "nothing serious." She is also scheduled to compete in Saturday's Super-G.
Six other competitors also failed to finish the course.
For the first time in Winter Olympics history the gold medal was shared between two skiers after Slovenia's Tina Maze and Switzerland's Dominique Gisin both finished with the same time of 1:47.57.