FC Barcelona president Sandro Rosell stands down over embezzlement claim
Move comes after judge rules there are grounds to investigate embezzlement claims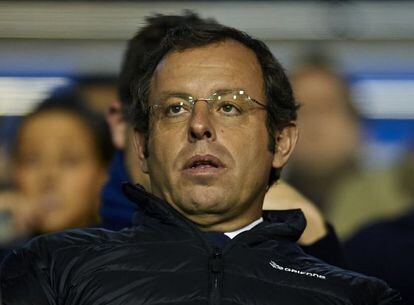 Barcelona FC president Sandro Rosell resigned on Thursday evening after National High Court Judge Pablo Ruz on Wednesday took the decision to investigate a lawsuit brought against the soccer club chief for embezzlement in connection with the signing of Brazilian star forward Neymar.
Rosell, who spent Thursday holding meetings with directors and close collaborators, called an extraordinary board meeting to announce his decision.
Speaking just before 9pm on Thursday evening, Rosell said it had been a privilege to serve as president and alluded to threats he and his family had received while he was in the post. However, it was the uncertainty generated by the details of the Neymar transfer that finally led to his decision, Rosell said, adding he did not want the "unjust" accusation to harm the club.
The rules of the club do not oblige presidents to step down in the event of their implication in legal proceedings, because the presumption of innocence prevails. For the moment, the judge has not even summoned Rosell to testify. Club vice-president Josep Maria Bartomeu will see out the remainder of Rosell's mandate, which runs until 2016.
The plaintiff who launched the lawsuit, club member Jordi Cases, announced through his lawyer on Wednesday that he was also considering extending the lawsuit to encompass Bartomeu and Xavier Faus, the economic vice president.
Cases, a pharmacist who holds a season ticket in the third tier of Camp Nou, lodged his complaint after asking the club to clarify the Neymar deal, which it claims was worth 57.1 million euros, and receiving no reply. He alleges the real amount of the transfer was 94.4 million euros.
FC Barcelona does not deny the existence of add-ons to the transfer fee, but is adamant that the actual cost of signing the player from Brazilian club Santos was 57.1 million. As well as the contents of Cases' suit, Judge Ruz said documentation sent to him from the club at his request offered "sufficient elements" to justify an official investigation into Neymar's signing.