Learning to skip through life
Spanish world junior triple jump champion Ana Peleteiro has her sights set on joining the Olympian elite But at 18 there are still so many variables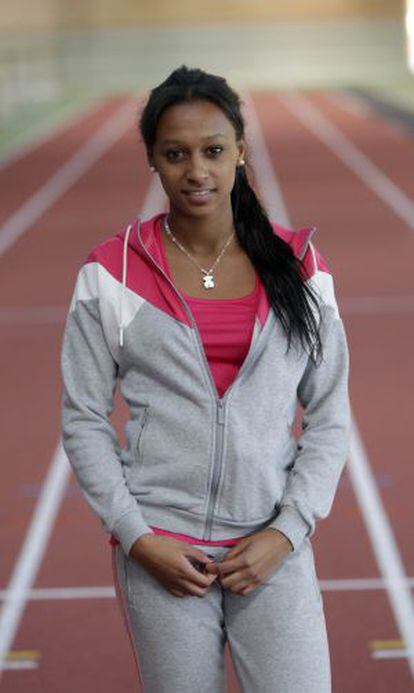 David Epstein writes in his recent book The Sports Gene that Michael Phelps and Hicham el Guerrouj — the former standing at six-feet, three inches, and the latter coming in at just over five-feet, seven inches — both have the same inside leg measurement. The reason lies in their morphology: Phelps's torso is longer than most people of his height, which gives him greater distance in the water, while the relatively lanky legs of El Guerrouj gave him the edge in the 1990s, when he established a 1,500-meter world record that still stands.
Spanish triple jumper Ana Peleteiro is 1.72 meters tall (just over 5'6"), but the length of her legs correspond to that of somebody standing 1.80 meters, a factor that has given her a natural advantage.
At the same time, says her coach, Juan Carlos Álvarez, she possesses what he calls an innate ability to jump.
"She finds it very easy to stay in the air, and she is fast: she leaves the ground like a well-struck golf ball. It's her speed that gives her the distance, while at the same time she seems to just float. She has everything it takes to reach the highest levels," the coach explains.
The 18-year-old from Galicia has been working with Álvarez for the last few months at the High Performance Center, a state-funded sports training facility in Madrid, where she has been training with male athletes. Although that routine is on hold for the moment.
"I was doing long jumps with a colleague, who I normally beat. But I realized that this time I wasn't reaching my usual distance. Eventually, I realized that I was injured," she explains.
I woke up one day and realized I would not get far unless I changed"
Such are the ways of the great athletes: competitive at all times. Peleteiro was a world junior champion at age 16, just over a year ago.
"That title could mean everything, and it could mean nothing," she says. To reach the highest echelons, she will have to learn how to grow, something that she herself doubted when, last winter, just after winning the title, saw how her life seemingly became a series of irreconcilable needs.
"The first two or three months were quite hard, because I had gone from being a girl known only by people really interested in athletics, or the people from my town, to somebody that the media wanted to talk to. I found it hard to begin with, because I would just say any old thing, but I guess that is a normal process."
Then she began to develop back problems.
"It was during the outdoor season. They discovered that my left leg is a centimeter shorter than the right one, and so I had to take four months off. They put a rise in my shoe, and wasn't able to train. This also coincided with the end of my studies for university, and I just didn't feel like training. I wasn't prepared, psychologically or physically. All the same, I was still able to jump well..."
Shortly after, Peleteiro says that she realized that the time had come to make a big decision about her future, and that if she was serious about competing at the highest levels, then she was going to have to make the move to Madrid.
"I had to leave the coach I had worked with until then. I liked the idea of moving to Madrid, but at the same time I was afraid of leaving my family. It was the risk of a big change that perhaps might affect my body, and my performance. I surprised myself, because soon after arriving, I realized that I was happy. It was a bit difficult in the summer, but since September, it's been incredible. I am a very sociable girl, although it's tricky when you arrive somewhere new and everybody has already found their group of friends. But I soon made new ones."
She says that she now feels that she is able to focus fully on developing her career as a professional athlete.
"It's quite an emotional thing to say it, but in a very short period of time, since winning the world title and the European event this year, I have changed so much, and people who know me say the same. I was always a bit crazy, and would say whatever was on my mind or do whatever I felt. Then I woke up one day and realized that I wouldn't get anywhere like that. Last year, after not training for so long, I had a hormone problem because I didn't start getting my period until I was 16. After the World Championships I began to put on a bit of weight, and my bones became stronger. If you train, you can turn fat into muscle, but if you don't, the fat stays. The problem is that my legs are pretty much perfect, but I have fat on my abdomen and need to get rid of it. It's not so much about eating less, but eating differently. Before, I thought nothing of going into McDonalds and pigging out. But I can't do that anymore. It's a long process, because it isn't about losing weight, it's about getting rid of certain types of fat, and that is hard. My sights are set on 2014, the World Junior Championships in Oregon: by then I will be the right weight, and I am sure that I will be able to jump more than 14 meters."