CHRISTMAS LOTTERY
62246: the Fat One
Leganés, Mondragón and Bailén share out 640-million-euro ticket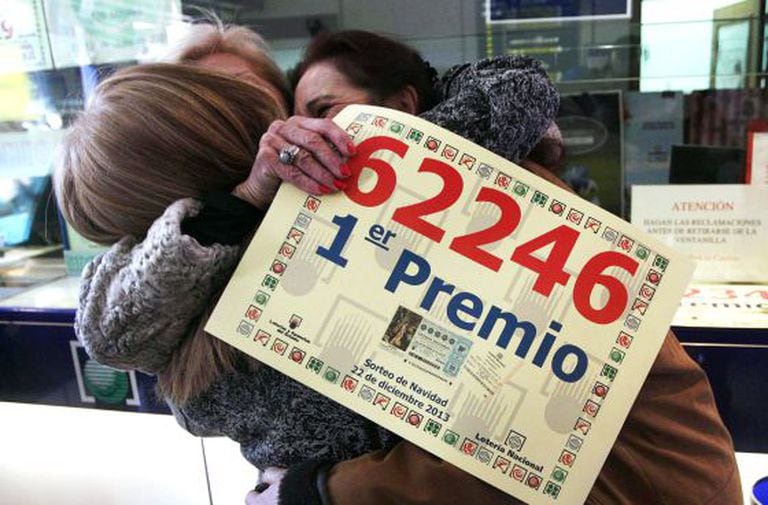 The bigger they are, the harder they fall, the saying goes. And the Fat One certainly caused the earth to move in Leganés (Madrid), Mondragón (Guipuzkoa) and Bailén (Jaén) on Sunday. The vast majority of the winning Christmas lottery ticket, number 62246, was bought up in those locations, showering their possessors with a staggering 400,000 euros per décimo, the tenth of a ticket. In total, the winning ticket was worth 640 million.
The Christmas cheer was also distributed in Madrid, Valencia, Toledo, Palencia, Avilés, Barcelona, Pontevedra and Seville, where fragments of 62246 were also purchased.
The biggest share was bought in Leganés, in the state lottery shop on the Plaza del Salvador, where 356 million euros was won via 89 of the 160 series that comprise the winning number. "I'm very happy. I've been here for 27 years and it's the first time I've had a Christmas win," said the shop's owner, María Luisa Ron.
"I never buy one and I wasn't going to buy one this year," said Daniel, who has been unemployed for over a year. "But I was bored one morning, thought I'd take a walk and I bought a ticket after asking the shopkeeper which one she thought would win."
Mondragón was the scene of the second-biggest win. Forty-five series were sold in the lottery shop on Álava street, distributing 180 million euros. In a touch of Christmas wonder, Mondragón is the location of a large Fagor home appliances factory, which closed down a month ago at the expense of 2,000 jobs. The winning ticket was bought in small numbers, meaning that the 400,000-euro prize for a tenth was distributed throughout the community.
In Bailén, 150 décimos were purchased, worth 60 million euros to a town of 18,000 people.