POLITICAL CORRUPTION ON TRIAL
Castellón "cacique" used "textbook money-laundering method"
Tax expert tells court how Popular Party baron Carlos Fabra paid off series of unnecessary bank loans with dirty cash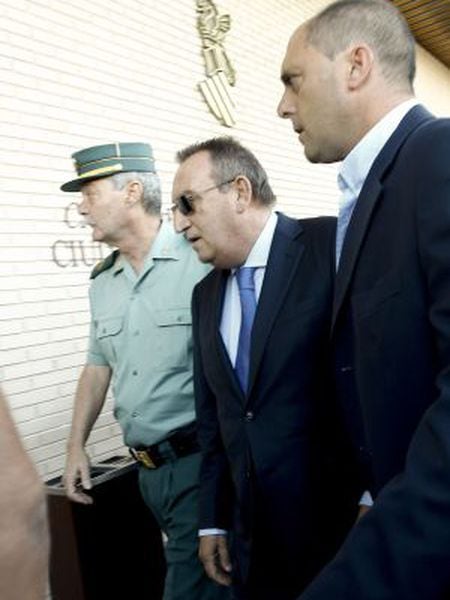 An expert who examined the bank accounts of Carlos Fabra, the former chief of Castellón province who faces jail terms in an ongoing trial for tax fraud, said that he and his wife's financial strategy is "the first one you study in the handbooks on how to uncover black money."
"It is a very well-known operation: you ask for a loan and return it in cash," said Conrado M. Caviró, head of the AEAT tax agency's support unit for the Anticorruption Attorney's Office.
Fabra and his wife are suspected of paying off their various bank loans in this manner. Experts who analyzed their accounts say that there are 3.3 million euros of unknown origin there that cannot be explained by their income levels. Three million euros were deposited in small cash amounts between 1999 and 2004.
Carlos Fabra faces four counts of tax fraud worth 700,000 euros and eight years in prison, while his wife is being charged with three counts of fraud worth 400,000 euros.
The 67-year-old Popular Party (PP) politician, who is also being investigated for bribery and influence peddling, was the chief of the Diputación de Castellón — the top authority in the northern Valencian province — between 1995 and 2011. A member of a powerful family in the region, he was the seventh Fabra to preside this body (so did his father before him) since the late 19th century. His daughter Andrea is a PP member of Congress who made media headlines in July 2012 when she was caught yelling out "Screw them!" when Prime Minister Mariano Rajoy announced cuts to unemployment benefits.
Hefty commissions
Fabra, who wears dark glasses at all public events due to his having lost an eye, was known for his authoritarian style that often earned him the nickname of "cacique." A businessman has accused him of demanding hefty commissions in order to get his pesticide products approved. Lately Fabra also became famous for building an airport in Castellón that never had any airplane traffic and featured a giant statue in his own honor. The airport has been held up by many international media reports as a perfect example of Spain's spending excesses during the real estate boom.
The tax expert reports show that the Fabras had a declared income of over 580,000 euros. But this does not explain the millions of euros in cash that they deposited into their accounts. Experts painstakingly analyzed as many as 17,000 transactions in 80 accounts in the couple's name.
Fabra's defense lawyers tried to justify the deposits into what they termed as "the family box." The state attorney asked what that was, and whether Fabra himself had told him about this box. "The money in Mr Fabra's pocket was notorious, not just what was in his box," was the reply.