ECONOMIC CRISIS
After recession, what prospects do the long-term unemployed have?
More than half of Spain's six million jobless have not worked in over a year. Many could find it impossible to return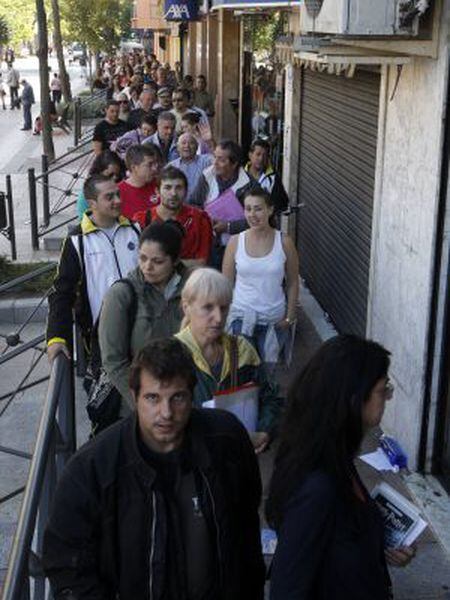 One of the basic rules of the labor market is that the longer you've been out of work, the harder it is for you to find a job, and it's a problem facing more and more of the six million plus Spaniards now unemployed.
As the country's unemployment levels have steadily risen since the current economic crisis began in 2008, a lot of attention has been paid to the problem of young people without work: the figure stands at around 56 percent of under-30s; but there are also some 3.5 million people — that's 58.4 percent of the total number of jobless — who have now not worked for more than a year. They are the long-term unemployed.
"This is a problem just as serious as that of youth unemployment," says Ángel Laborda, an economist at the influential Funcas think-tank. The view is shared by Carlos Prieto, professor of the sociology of work at Madrid's Complutense University, who says that the ongoing crisis and the failure of the government to generate jobs will likely see an increase in the numbers of long-term, or permanently unemployed.
"The chances of finding a job diminish in relation to the amount of time somebody is unemployed," echoes a recent report published by the Bank of Spain.
The main age group for the long-term unemployed is between 30 and 55
Ángel Valls of the ESADE business school explains why it is that companies are reluctant to hire people who have been out of the labor market for more than a year: "When it comes to hiring, companies value experience. This is very important, as is the candidate having been in the relevant sector recently, which gives you a big advantage when applying for a position. For example, somebody who was in sales before the crisis, say five years ago, has worked in a completely different environment to somebody who lost their job a couple of months ago."
Long-term unemployment is a relatively recent phenomenon in Spain. In 2008, when the crisis kicked in, there were just half-a-million people who hadn't worked for more than a year, or around 20 percent of the total jobless. But as the troubles deepened and more people joined the ranks of the unemployed, the numbers of the long-term jobless grew; it's a vicious circle.
Government figures show that in 2012 there were more than a million unemployed who had not worked in the last three years, and the numbers keep growing. Prieto says that long-term unemployment used to be a problem mainly affecting young people and women, but that in recent years the problem has spread: the main age group now is between 30 and 55, comprising some 2.2 million people.
Economists are now warning that long-term unemployment among this age group presents a more serious problem for Spain.
The reason is simple: as we get older, our ability to retrain is limited; we tend to have children and mortgages, and we cannot afford to go back to school, nor are we likely to consider moving abroad in search of work.
Marcel Jansen, an economics lecturer at Madrid's Autónoma University, says that Spain's low skills levels — there are now more than 1.7 million people in the labor market who do not have a high school diploma — means that a large number of the current unemployed aged 45 and over are unlikely to find full-time work again, and will be relegated to low-wage positions, if and when the economy picks up again.
I don't have any qualifications. The only thing I can handle is a shovel"
Miguel Ángel Bonilla, aged 37, married with two children, has been unemployed since 2009. His wife is also without work, and the family is entirely dependent on his unemployment benefit. Since leaving school at age 15 without a high school diploma, he has worked in construction, and did not encounter unemployment during a 20-year period. Asked if he has considered retraining, he laughs. "I don't have any qualifications; I'm not good for that. The only thing I know how to handle is a shovel."
The Organization for Economic Cooperation and Development (OECD) has just predicted that unemployment in Spain will remain the highest in the 34 industrialized countries that make up the organization, calling for safety-net systems for the long-term unemployed no longer entitled to unemployment benefits to be beefed up.
In a report published earlier this month, the agency welcomed the overhaul of the legislation introduced in February of last year by the government making it cheaper and easier to sack workers, saying this brought Spain closer in line with the labor regimes in place across most European countries.
The OECD says it expects unemployment in Spain to reach around 28 percent in 2014 - well above the OECD's current average level of 8.0 percent.
The IMF's outlook is similarly gloomy. It said earlier this year that Spain will be stuck with an unemployment rate above 25 percent for at least five more years. The Fund says that Spain is on track to emerge from recession this year, but warns that the country's six million unemployed are unlikely to see any benefit from marginal rates of growth in the near future.
Last summer, the government announced that it would continue to provide aid to the long-term unemployed, but with new restrictions on access. Some 600,000 workers no longer eligible for regular aid have benefited from the extension to the 440-euro monthly subsidy for those in households where there is no other income.
Those living with a parent or grandparent earning at least 481 euros a month are excluded from the benefit. The government will only give the subsidy to those who have been looking for a job for 30 days and can provide proof of work training.