When family is funny
New generation of Spanish filmmakers seeks comedy in domestic imperfection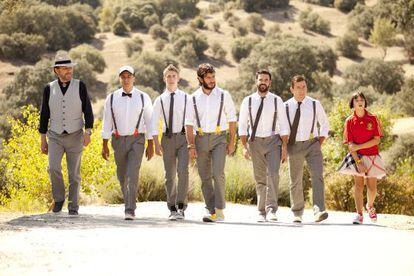 Dysfunctional families, busty scientists threatened by budget cuts (and single life), marginal characters looking for a way back into society, a plethora of weddings (remember, one of the few emerging industries in this country) and, yes, a soccer match. No, it is not social cinema, it is a new brand of Spanish comedy in which humor reaches beyond its mere therapeutic power to become a thermometer of our beleaguered society.
In these times of unbridled national nonsense, comedy has not only captured the zeitgeist with greater accuracy than other genres; it has also connected more fully with a confused generation busy looking for itself. Three of next season's most widely anticipated movies will be released in the coming weeks: on September 6, the Toronto Film Festival will screen Gente en sitios (or, People in places), a new example of low-cost experimental moviemaking by Juan Cavestany and a sharp portraitist of that lost generation. Festival organizers are already calling it a "hilarious" and "surreal" look at today's Spain.
A day later, in Venice, Javier Ruiz Caldera will premiere 3 bodas de más (or, Three weddings too many), which proves yet again that mainstream movies do not have to be devoid of intelligence or quality, and also that nuptial ceremonies continue to be the perfect setting for comedic action: "There is a lot of excitement, a lot of people and a lot of alcohol," notes its director.
Then, on September 13, comes Daniel Sánchez Arévalo's La gran familia española (or, The great Spanish family), one of those comedies that allow us to become reconciled with our small place in this fateful life, reminding us of "the positive, funny side of our misfortunes," in the filmmaker's words.
I like comedies about people who don't know how to deal with their lives"
"A comedy about problematic issues, about things that do not get resolved," says Cavestany about his new production, which has a cast of 80 actors in situations of "estrangement." "What can I do about what's happening if I don't know what's happening and therefore don't know what to do?" is the theme, he explains. And so a father goes to pick up his son at a meeting point and he is asked to play himself for a television program; a couple goes to a plastic surgery clinic to get her breast implants, but it's only the man who talks; and a real estate agent shows a couple an apartment that starts filling up with strange signs.
"I like comedies about people who don't know how to deal with their lives or how to do things properly, yet keep trying, either watching how other people manage it or else doing a botched job of it themselves," says Cavestany in a statement that could well apply to all of the new Spanish comedies, which have two defining traits: a sense of perplexity and a clear influence from recent US filmmaking and less of the traditional European tones.
"Now we are daring to make a different type of comedy from what we had seen to date," says María Angulo, executive producer of 3 bodas de más. "The references have changed. They are movies with a marked US influence, all widely accepted by the public. Spoof, romcom or buddy comedies are concepts that are starting to take root in Spain."
Borja Cobeaga, director of Pagafantas and a co-author of the script for 8 apellidos vascos, the new comedy by Emilio Martínez Lázaro, believes it is too soon to talk about a new comedy scene because the movement is so scattered. "There is an evident change; where there used to be national references, there are now American ones. And I include myself in that. If filmmakers used to make reference to [Rafael] Azcona, now their references are Judd Apatow and his derivatives."
They are movies with a marked US influence, accepted by the public"
3 bodas de más has no qualms about drinking from these sources. Its main character is a young woman with a disastrous personal life, who is accustomed to always being left in the lurch. She works in the lab of a Spanish coastal university, and her boss is obsessed with budget cuts. Her mother is played by Rossy de Palma, a wink at Pedro Almodóvar from a production that feels more like My Best Friend's Wedding.
"In my head the references get mixed up because that is my generation's cinema; the one I grew up with," explains Ruiz Caldera. "I adore Billy Wilder, Berlanga, Woody Allen... and the Spanish comedies of the 1980s and 1990s. But especially the Farrelly brothers, the Apatow factory and, of course, Alexander Payne."
Payne ( The Descendants , Sideways , About Schmidt ) is also on Daniel Sánchez Arévalo's altar. The Spanish filmmaker ( Azuloscurocasinegro and Gordos ) now delves into the microcosm of five siblings against the backdrop of the Hollywood classic Seven Brides for Seven Brothers and the World Cup soccer finals. The film is an explosive collective catharsis that talks about a society mired in mendacity ("In this country it takes us a long time to react and realize things. We believe time heals all wounds."), and explores the true nature of love and blood ties. "I spent 16 years psychoanalyzing myself and I think that's why I became a writer. I was obsessed about boring my psychiatrist. I suppose I was my own first spectator," he explains.