LATIN AMERICA
Peña Nieto vows to take control in volatile Michoacán state
Security forces are expected to comb neighborhoods to crack down on soaring violence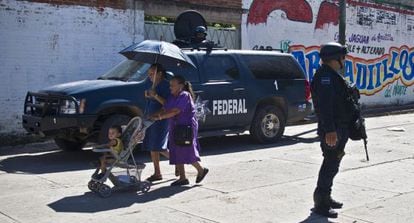 The government of President Enrique Peña Nieto has vowed to concentrate all of its efforts to restoring the peace in Michoacán state, where violence between drug cartels and vigilante groups has exploded over the past few months.
"We are going to go from one municipality to the other, neighborhood to neighborhood, to restore peace, stability and control for Michoacán's residents," said the president's chief of staff Miguel Ángel Osorio Chong.
Last Sunday, an armed group ambushed a deputy navy admiral as he and his wife were returning from vacation. He was the highest-ranking military official to have died in Mexico's bloody drug war. His bodyguard was also killed.
We are going to go from one municipality to the other to restore peace, stability and control"
The violence in Michoacán has become an explosive problem for the fragile state government headed by an interim governor from the Institutional Revolutionary Party (PRI), which many consider to be illegitimate.
Osorio Chong on Thursday said the federal government will "enter in full force" in Michoacán, where at least 29 drug- or vigilante-related murders have been reported in the last two weeks. Peña Nieto sent scores of troops, including navy officers, to the southwestern state in May but the situation is still far from under control.
His chief of staff met with top officials, including representatives from the opposition parties, local businessmen and prominent citizens from the state on Thursday to go over an offensive strategy.
At the same time, a political crisis is brewing after the local government signed what is being called the Michoacán Accord that will pave the way for changes within the state's administrative and political structures. The interim governor - who is sitting in for the actual elected governor, Fausto Vallejo, because of illness – called for the resignations of the state treasurer and prosecutor.
Michoacán is also reeling from a financial crisis with its debts soaring to more than 40 million pesos ($3.1 million), reports Efe news agency.