Biggest protests in 20 years sweep across Brazil
More than 240,000 take to the streets to demand better opportunities and justice
São Paulo / Rio de Janeiro -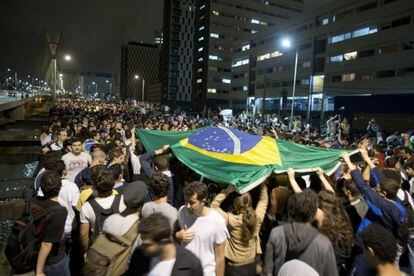 What began as a demonstration to demand reductions in public transportation fares has snowballed into a massive protest movement with a quarter of a million people answering Monday night's call to converge on the streets across major Brazilian cities.
They were summoned through Facebook, and such turnouts had not been seen since 1992 when citizens came out to show their support for a political corruption trial against President Fernando Collor de Mello.
An estimated 100,000 people marched in Rio de Janeiro, 65,000 in São Paulo, and hundreds of thousands in other cities such as Brasilia, Maceió, Porto Alegre, Fortaleza, Salvador, Vitória, Curitiba, Belém and Belo Horizonte. In all, government officials estimate that more than 240,000 people turned out in protest on Monday night.
Despite some pockets of violence, most of the demonstrations were peaceful. In Rio, a group of protestors broke into the Legislative Assembly while in Porto Alegre police fired tear gas at demonstrators who threw rocks at officers. In Brasilia, a small group climbed up to the roof of Congress and remained there for brief moments.
Overall, however, the marches were carried out in an orderly fashion after tension on the streets of São Paulo when the wave of protest started earlier this month.
President Rousseff considers that the protests are legitimate and typical of democracy"
"President Dilma Rousseff considers that the peaceful protests are legitimate and typical of democracy," said the Brazilian leader's spokeswoman, Helena Chagas.
The reasons for the protests are vague, and some of the demands could be seen as ambitious. Some carried signs demanding the freedom for Julian Assange, the WikiLeaks founder who has been holed up in the Ecuadorian Embassy in London since last June. A woman carried a placard that read in English: "Don't come to the World Cup." Brazil will host the international soccer championship next year.
Regardless of their reasons, most demonstrators agree that the movement has grown out of the protest against public transportation hikes and flourished into a generalized rally against high inflation and a stagnant economy, with demands for more educational opportunities and higher health standards.
"If one cent went to education, I wouldn't be here," read another sign carried by a demonstrator in São Paulo.
I wish something like this would happen in Mexico"
"I am marching in favor for human rights of Indian communities, for homosexuals, and for other minority groups," explained Rebeca Lerer, 36. "The protest against transportation hikes was the last drop that filled the cup."
The demonstrations have taken a different course since that first march held on June 7 in São Paulo, where protestors clashed with police. More than 100 people were injured and at least 230 Brazilians were arrested.
On Sunday, some 3,000 demonstrators, the majority of them young people, were pushed back from Rio de Janeiro's Maracanã stadium where they tried to hold a protest during a Confederations Cup match between Mexico and Italy.
While the protestors chanted "no violence" and "we prefer education and health rather than the soccer," anti-riot police, fearing that the swarm of people would break into the stadium, fired tear gas and rubber bullets at the demonstrators.
While no official estimates have been given, it is estimated that dozens of people were injured and scores were arrested. The police were equipped with helicopters and anti-riot shields. Squads of officers rode on horseback while dozens more handled dogs. When the clashes began, the demonstrators ran to the nearby Boa Vista Park to find refuge. They were encircled to prevent them from getting close to the stadium.
Many also held placards that referred to the billions of reals the government is spending to hold next year's World Cup. Rio is also to host the 2016 Olympic Games.
When soccer fans mingled with demonstrators as they were going to the stadium, some of them applauded their actions. "I wish something like this would happen in Mexico," Rafael Hernández, a Mexican fan, told them in Spanish.
Rousseff was heckled when she attended the inaugural Brazil-Japan Confederations Cup match on Saturday.