Venezuela reins in 'dissident' broadcaster
Globovisión falls into hands of pro-Maduro government businessmen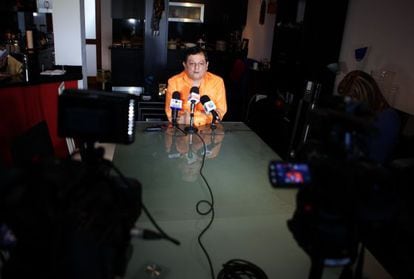 In the home of journalist Francisco "Kico" Bautista there is a small living room connected to the balcony that overlooks the spectacular Ávila mountain range that separates Caracas from the Caribbean.
There Bautista is holding a news conference to explain the reasons why his late-night TV show was canceled on the Globovisión network. There are no reporters from the other television networks: only the international press and the two major Caracas dailies, El Universal and El Nacional, which are trying their hardest not to bow to government pressure.
Bautista's wife, journalist Ibéyise Pacheco, tunes into a foreign station that picked up part of her husband's conference, but it was just a brief cut in the newscast.
For years, the opposition relied on Globovisión – a small television channel that could only be seen in Caracas – for news and information that often questioned the government of late President Hugo Chávez. But the network was recently sold to a group of Chavism-linked businessmen.
Juan Domingo Cordero, the president of the new board of directors, met with officials from President Nicolás Maduro's government last week. "They asked us to be more sensitive when it comes to broadcasting news, and that is what we are going to do it," he said after the meeting.
On Thursday, Bautista attended a private meeting with his new bosses that he described as "belligerent."
Globovisión's new owners had already fired opposition deputy Ismael García, who presented a Sunday program, on the basis that only journalists should host television news shows.
The dismissal came just days after García presented an audiotape of another television presenter, Mario Silva, who is connected to the government, informing a Cuban agent about the divisions and corruption that reportedly exist in the military and the Maduro administration.
Silva, who was one of Chávez's favorite television hosts, stepped down "for health reasons" from his program, La Horjilla (The razor), on state channel Venezolana de Televisión after the release of the tape.
When Bautista went to work on Friday he ordered an interview of opposition candidate Henrique Capriles to be broadcast. After it went out on the air, he was notified that he had been fired. The news spread like wildfire across the social networks.
With Globovisión in the hands of pro-government owners, the opposition has lost an important voice to Venezuelans. The private Venevisión – once the number one network in the country and owned by magnate Gustavo Cisneros – has also swayed toward the government, as have Televen and Unión Radio, the largest chain of radio stations.
Observers believe that freedom of expression in Venezuela is once again being undermined with crackdowns on dissident broadcasters. In 2007, the government refused to renew the broadcast license of Radio Caracas Televisión, the oldest broadcaster in Venezuela, after officials determined that in 2002 it had sided with coup plotters who briefly overthrew Chávez.
"Globovisión was an outlet for those who were not given airtime on other networks," said Bautista. "We needed to give them a voice to allow them to be heard, and it should continue this way now that the country is about to go through some changes."