The challenges facing Spain's toxic bank
Sareb was set up to dispose of properties owned by the failed savings banks But with more than 70,000 new and unfinished projects to deal with, it faces an uphill task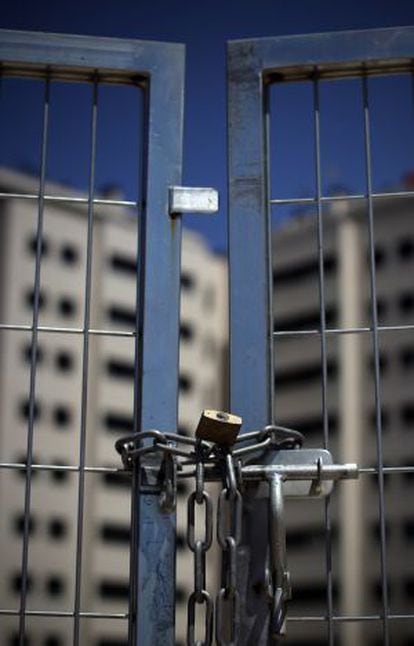 For the last year or so, most of the 65 properties that make up the La Secuoya vacation complex in Almeria, Andalusia, have been occupied by around 40 families, gypsies who had been living in caves in nearby Almanzora. La Secuoya, built by a British property developer using a seven-million-euro loan from failed savings bank Bancaja, is among hundreds of such developments - many of which have also been occupied - along Spain's coastline, victims of the collapse of a construction boom that has sent prices tumbling by up to 40 percent since 2007.
Around 500 kilometers away, in a 12-story office block on Madrid's central Paseo de la Castellana thoroughfare, are the offices of Sareb, the so-called "bad" bank set up last year by the state to take over some 90 billion euros' worth of failed real estate projects like La Secuoya from the nationalized lenders - Bankia, Catalunya Banc, NCG Banco, Banco Gallego, Banco de Valencia, Banco Mare Nostrum, Ceiss, Liberbank and Caja 3.
According to Sareb, its holdings also include 76,357 vacant and 6,293 rented homes, along with 14,859 plots of land. The institution also owns property development loans for 61,702 finished and 3,924 projects under construction. Sareb's assets, which it bought at discounts of up to 63 percent, are valued at 50 billion euros.
The bad bank has not only taken over the loan that La Secuoya's promoter has failed to pay back, but will also have to deal with the demands of buyers who paid but have not been able to take possession of their property.
Sareb's holdings include 76,357 vacant and 6,293 rented homes
Spain created Sareb last year to help lenders facing capital shortages sell their toxic real estate assets as part of the agreed commitments for a bailout of 41 billion euros from the European Union. Foreign investors - including Deutsche Bank and Barclays - Spanish lenders, and insurance firms agreed to purchase 55 percent of the capital in Sareb, allowing the government to keep the facility's debts off its books.
Among the Spanish investors persuaded by the government to take a 55-percent stake in Sareb are major banks such as Santander, Bankinter and Unicaja, as well as insurers Mapfre and utility giant Iberdrola. The remainder is owned by the state through the Orderly Bank Restructuring Fund (FROB), which was set up to bail out the country's failed savings banks. Sareb raised the 55 billion euros it needed to buy and maintain failed property developments and lend to property developers by issuing state-backed debt. In short, Sareb's exposure is public, but the 55 billion euros are not audited as public debt, nor is it reflected in the books of the savings banks owned by Sareb. The debt is Sareb's but the Spanish taxpayer is the guarantor of that debt.
Sareb does not even manage its property portfolio, instead paying a commission to the lender, for example Bankia, if it is able to sell its toxic assets. In other words, Bankia is still trying to sell the same properties it was when the crash came, except that now, those properties are audited to Sareb. So, the same sales teams who were offering overpriced apartments in unexceptional locations such as La Secuoya are now trying to sell them at knockdown prices with the backing of Sareb.
It plans to demolish some of the 3,200 unfinished properties it has taken on
The bad bank is negotiating the sale of large investment packages to overseas funds looking for bargains. In some cases, these are the same vulture funds that made a killing during the property boom, and are now set to do so a second time.
"They [Sareb] have no idea what they have bought," says José García Montalvo, a lecturer at the Pompeu Fabra University in Barcelona, and an expert on Spain's property sector. He describes the bad bank as having to "chew up and swallow the madness of the property boom. It was a fiction that, like so many others before it, will fade away with time, but before that, somebody has to pick up the tab."
A few kilometers to the north of La Secuoya, in Alhama de Murcia, is Polaris World, an unfinished sprawl set amid semi-desert inland from Murcia airport. Covering nine million square meters, it was due to boast three golf courses and 20,000 properties, making it the largest residential complex in Europe, and home to 60,000 people. In the end, just 3,500 homes were built, 130 of which are now in the hands of Sareb and up for sale.
One appraiser says land once valued at five million euros is now worth 200,000
Daniel Ormel, a freelance Dutch property sales agent, is trying to sell them to buyers from northern Europe. He says there is demand and that prices are rising: "The Banco de Valencia
[one of the banks that backed the project] was selling these two-bedroom apartments for 57,750 euros; some of them are now going for 80,000 euros."
Some in the real estate sector say Sareb is putting up the prices on the properties in its portfolio. The bank rejects the charge, saying it intends to sell 45,000 properties in five years, a target it will not meet if it tries to sell at market prices at a time when only around 300,000 homes are being sold annually.
Sareb could rent out
A spokeswoman for Sareb says it is planning to demolish some of the 3,200 unfinished properties it has taken on, although it has been approached by Chinese investment funds interested in buying them. Sareb is now negotiating the sale of tranches of unfinished homes in Andalusia and Valencia valued at 200 million euros.
These and other properties will eventually be sold, when prices come down, or simply over time. A bigger problem is what to do with over-priced land bought during the boom for development, says García Montalvo. "There is no way that this land is going to be used over the next 15 years." One appraiser says land valued at five million euros at the height of the construction boom is now worth 200,000 euros.
Sareb has given itself 15 years to wind itself up and return the 1.2 billion euros its backers put up, with 14-percent annual interest. The bank believes the time frame is reasonable, saying it aims to make 75.8 billion euros on the sale of its assets between now and 2027.
De Guindos and Merkel's candidate
ÍÑIGO DE BARRÓN
Belén Romana is the chairwoman of Sareb, the entity set up last year to acquire the failed real estate developments backed by many of the country's defunct savings banks. She was selected from a shortlist drawn up by headhunters Spencer & Stuart, but is widely believed to have been the preferred candidate of Economy Minister Luis de Guindos. Her nomination was also backed by German Chancellor Angela Merkel, according to agency reports.
Romana, now on an annual salary of half-a-million euros, worked with De Guindos when she was head of the ministry's political economy department, and later at the Treasury, joining his inner circle. Before she took over at Sareb, De Guindos put her name forward to head the National Stock Exchange Commission and the MEDE European Rescue Fund.
After completing her economics degree at Madrid's Autónoma University, Romana continued her studies at Tuft University in New York. She has sat on the boards of the Bank of Spain, the National Stock Exchange Commission, Banesto and Acerinox, and was director of strategy at phone operator ONO. She has worked in Germany for consultancy Fraser.
She is held in high regard by former colleagues, although some sources say her knowledge of the property market is limited. While the task in hand at Sareb initially involves issuing loans, it will be primarily focused on selling real estate, they say. The entity has pledged to sell about 45,000 properties, around half its stock, in the first five years, and has a maximum lifespan of 15 years. Over that period it aims to generate an annual internal rate of return of 13 to 14 percent for shareholders.
Carlos Sánchez Mato, a lecturer at Madrid's Complutense University, believes Spain's failed savings banks should have been nationalized and turned into a state bank to fund public housing projects. He is highly skeptical of Sareb's aims. "This plan is a fantasy and will come to nothing," he says. "Through sleight of hand they have managed to remove the 55 billion euros from the banks' books, while at the same time making sure it doesn't appear as what it is: public debt. But that doesn't mean the debt doesn't exist. We will all end up contributing to paying it off. We, the taxpayers, are backing Sareb's debt, while its main shareholders are the banks, who have a vested interest in not selling these properties, because they already have their own huge stock of real estate." He argues that Sareb has thousands of properties that it could put on to the rental market at low prices.
A demonstration outside Sareb's offices in Madrid is planned for this Wednesday, timed to coincide with the entity's first general shareholder's meeting. The organizers say they oppose the state being the largest shareholder in what to all intents and purposes is the country's largest real estate company at a time when hundreds of thousands of people have been evicted, and many more face losing their homes. They point out that Belén Romana, the head of Sareb, is being paid around half a million euros a year.
Officially, Sareb won't be evicting anybody - after all, it hasn't lent money to anybody. But the reality is a little more complex. Among its portfolio are thousands of properties whose owners cannot meet their mortgage repayments. Take, for example, Rocío Edilma Sánchez, who bought a small apartment in the Madrid working-class district of Tetuán. The 40-year-old Ecuadorian care worker paid 270,000 euros for the 78-square-meter property in 2007, a price tag that six years later is hard to believe. "We were told that the mortgage repayments would be around 700 euros a month, but then they started to rise, eventually reaching 1,900 euros a month, by which time we couldn't pay," she explains.
In November Bankia told her that it was repossessing the property, but she has managed to halt the eviction order for the moment. In January, Bankia said the property now belonged to Sareb, and that the eviction proceedings were going ahead. At the beginning of May, she was told she would have to leave the property, and has moved all her belongings to a friend's house after receiving a letter saying that any possessions found in the property at the time of eviction would be seized. She has since been told that the eviction proceedings have been halted for the moment.
So what will Sareb do? Its brief is to sell the properties on its books at the highest price, to the benefit of its shareholders - and its principal stockholder is the Spanish taxpayer - but sources at Sareb say it will seek agreements on repayment with owners facing financial difficulties.
But there will likely be many cases such as that of Martina (a fictitious name), who moved to Spain in 2001. She has been unable to pay her 191,600-euro mortgage on a small property in a working-class area of the capital. "We reached the point where it was about paying the mortgage or eating," she says. She managed to halt an eviction order and renegotiate with Bankia to repay 220 euros a month rent on the property. But before she could sign, she was told the apartment now belonged to Sareb, but has heard nothing from the entity. For the moment she continues to live in the property with her twins, aged seven. "I'm not paying any rent at the moment, but I don't like this situation, and I'm afraid to look in my letterbox in the mornings," she says.
Sareb says it is important to distinguish between cases that involve removing squatters from empty properties and those where owners are no longer able to meet their repayment commitments: "It is our obligation to assess who is living in a property, and to tell the authorities if a property is being occupied illegally. The organization says its remit does not include making properties available for low-income families. "The public responsibility of Sareb is to disinvest its assets in the most profitable way for its shareholders... the government has set up a fund for low-income housing."
But as growing numbers of people learn that Sareb now owns their home, the organization faces ever-more complex issues. For example, the 163 families who belong to a housing cooperative on the outskirts of Madrid. They are waiting to move into their new homes, but have refused to pay an additional amount on top of what they have already paid. "They say they are optimistic a solution can be found," says one homeowner after speaking to Sareb. He bought his property eight years ago with his partner. It is finished, but the couple can't move in, say the developers, until they pay 60,000 euros. They are hoping that Sareb will now resolve the issue.
The problem is Sareb has no authority either to finish uncompleted properties or developments: its brief is to get rid of more than 70,000 properties as quickly as possible, and it will have enough doing just that, without having to deal with legal complexities.