Leaked audio tape suggests divisions inside Venezuelan military
TV host and hardcore government supporter passes on information to Cuban agent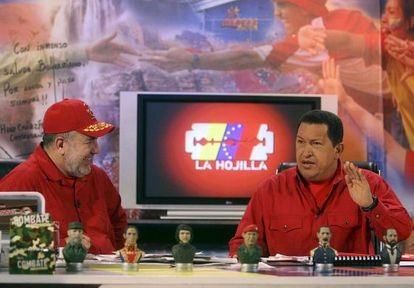 Venezuelans were taken aback on Monday when an opposition lawmaker released an audio tape of a private conversation between an influential television commentator, who is also a government insider, and a Cuban intelligence agent, in which they allegedly discuss the internal divisions that exist in the military and within President Nicolás Maduro's administration.
In the lengthy recording, Mario Silva, the controversial host of La Hojilla (The Razor) on state-owned Venezolana de Televisión, can be heard giving Artemis Palacio, the Cuban G2 intelligence agent assigned to Venezuela, rundowns of the current tense situation in the country.
Silva tells him how National Assembly president Diosdado Cabello has been diverting money from his own companies to foreign bank accounts, and how other officials are plundering their ministries because they "believe this is going to implode soon."
"Are there internal divisions? Fuck yeah," Silva asks and answers rhetorically. "Ask me if there are groups running in one direction and others running the other way to see where they can get the most money? Of course there are."
The audio tape, with Silva's unmistakable voice, was leaked by an unknown source and made its way to Henrique Capriles' opposition camp. It was released — transcript included — at a news conference on Monday by opposition deputy Ismael García, who said the issues discussed in the conversation portrayed "a very serious situation."
"They are going to give the recording to Raúl Castro so that he can dictate political instructions for this country," García warned.
For nearly nine years, Silva has been the host of La Hojilla, which was a mouthpiece for the government of Hugo Chávez and one of the late president's favorite shows. Chávez would sometimes appear to announce his government's plans.
Silva accused the "fascist" and "rightwing" opposition of fabricating the tape with the help of the Israeli intelligence service. "La Hojilla is about to celebrate nine years on the air. Recordings from those programs could have helped put that montage together," he said during his program on Monday night. "I have decided to put myself in the hands of the justice system so they can investigate me. If I have to immolate myself for the Revolution, I will do it." Silva went on to say he would temporarily leave his show for health reasons.
In the tapes, Silva gives Palacio a rundown of what is happening inside the military. He alludes to a power struggle between President Maduro and Cabello, who reportedly has the backing of the military's top echelon. Silva, however, adds that middle-ranking officers "hate Cabello" and Defense Minister Diego Molero. "They want to get rid of Molero, and you know why? They want to take over the armed forces and force Maduro to obey them, or launch a coup."
Molero tried to speak with Maduro and his wife Cilia Flores about the situation inside the military but he was prevented by their aides, Silva said.
The TV host answered all of Palacio's questions in the recording, and according to the transcript gives him a copy of the conversation on CD at its close. He also is heard accusing Vice President Jorge Arreaza — Chávez's son-in-law — of being the source for several journalists who accurately reported on the late president's condition. "You know what they call him? Frog; why? Because he croaks. Everything that happened to the commander was probably coming from him."
Chávez died on March 5 after a battle with cancer.