"We feel tricked" say the small solar power investors facing bankruptcy
Government backtracks on subsidies, leaving 30,000 households with huge loans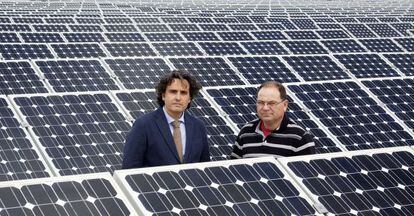 Some 30,000 households who invested in a government-backed solar energy scheme now face bankruptcy, according to sector associations. In 2007, encouraged by a decree by the Socialist Party administration of José Luis Rodríguez Zapatero aimed at increasing the use of renewable energies in line with Spain's commitment to reduce greenhouse gas emissions, small investors put their money into solar energy power plants, believing that the investment would bring returns of around 500 euros a month. The majority live in rural communities where the availability of land added to the appeal of what seemed a surefire money-spinner.
Then the crisis hit Spain. Successive cuts by Zapatero's government and the present Popular Party government first reduced the number of years that investors would be guaranteed a fixed tariff for solar energy bought for the national grid, then lowered the price paid out, all accompanied with new taxes.
There was a very serious failure here to estimate the power needed"
Of the 59,835 solar power plants in Spain, 34,000 belong to individuals, according to Anpier, the National Association of Renewable Energy Producers and Investors. Investors have lost around 40 percent of their assets since 2007, when the previous government issued its decree to boost solar energy's contribution to the national power supply. Many, of course, borrowed heavily to purchase their stake in what looked like a new growth sector in an economy which had been expanding for over a decade.
Around half of the 418 investors who put their money into a solar power plant at Paraje La Jeresa de Lorca, in the Murcia region, have stopped paying back the loans they took out with their banks to cover the investment.
"We are on the verge of expropriation," says Antonio Alcázar, a 40-year-old father of two, who now says that he regrets not having stuck to growing broccoli, artichokes and lettuces. "This is not for the likes of us," he says. Solar energy currently contributes around three percent of Spain's energy needs.
Anpier's headquarters is in a building that houses several agricultural organizations. "These people were not looking to make a quick buck, but simply to earn a little extra each month," says a spokesman. Backed by the government, farmers assumed their investment would be secure, seeing it as a contribution to their pension plans, or a means to diversify their harvest.
"The idea was not to have all our eggs in one basket," says Pedro Carrión, the owner of a farm in Jumilla, Murcia. Married with two children, he handed over 30,000 euros, his life savings, to buy an installation whose total cost was 300,000 euros. He says the bank required strict guarantees, and so he put his parent's property up as collateral. The 40 or so partners in the solar energy plant are in a similar position, and some have already cut their losses and sold up. "We're not even making enough to pay the loan back," says Carrión, who has just paid his bank 10,000 euros, money he made from selling his fruit. He says it will give him a couple of months' breathing space.
Investors in other solar power plants say that they have tried to collectively renegotiate their loans with the banks, but have been told that each case will be assessed individually. So far, the banks' only offer has been to refinance the loan, which means no longer paying beyond the useful life of the solar plants and to double the four-percent interest rate they are currently paying.
Snipping at the Sun
- Small investors put their money into solar panels after the then Socialist government of Prime Minister José Luis Rodríguez Zapatero issued a decree in 2007 setting up a system of fixed prices to compensate for the initial costs of setting up photovoltaic power plants.
- The first cuts to the subsidies came in 2010. Another decree limited the return on the installations to 25 years. Until then, the fixed price tariff was for the useful life of the plant. Also in 2010, another decree imposed a 7-percent tax on electricity generation.
- In that same year, a further rule change cut the number of hours of power generation eligible for subsidies.
- In 2013, another government decree froze the indexation of inflation in payments to the sector.
Miguel Ángel Martínez-Aroca, Anpier's president, says that Secretary of State for Energy Alberto Nadal has offered to put the investments into a toxic bank, something that Economy Minister Luis de Guindos has rejected publicly. The Industry Ministry has refused to comment on the exact number of investors in trouble and whether it intends to help them out.
"There is a very serious failure here to estimate the power needed. No limits were agreed on the maximum number of subsidized megawatts," says Martínez-Aroca. Between 2007 and 2010, when the subsidies were cut, the amount of state-funded solar power increased five-fold to 313.7 GWh, according to the National Energy Commission (CNE). "The same people that put this scheme together are still at the ministry and they are now cutting subsidies," says Anpier's president.
"The assemblies are starting to become a major problem. People are getting very nervous," says Manuel Pérez, the owner of a cooperative of users and consumers in Crevillente, Alicante province. He is one of around 500 households that invested a total of 80 million euros between them in a 13.5KW plant. Of that amount, 16 million came from savings, and the rest was lent by the banks. "Our income has fallen by 27.5 percent; either we put between 10,000 and 15,000 euros a year into this plant, or the bank will take it," says Pérez, who works on the cooperative, which has around 6,000 partners. "We're not talking about losing our money any longer; we're talking about losing our homes," he says.
In the northern region of Navarre, around 9,000 people are on the verge of ruin. "There were waiting lists to invest in these installations," says Juan Antonio Cabrero, a 59-year-old bus driver. He says that some investors are already beginning bankruptcy proceedings. "We feel that we were tricked by the backer, which in this case is the state. Nobody is going to invest in a country like this."
We are on the verge of being evicted. This is not for the likes of us"
Investors have been waiting for the moment to take their case before the courts for the last three years. The process of appealing to the CNE to reclaim their money began on March 31. Lawyers for the Spanish Photovoltaic Association (UNEF), which represents 85 percent of the sector, say that cases cannot be brought before the High Court until August 31. A UNEF internal report advises its 307 members to "hire the services of a lawyer." The 4,500 members of Anpier say that they will put the matter before the courts.