Gloves off: Madrid forcibly retires 700 senior health professionals
College of Medicine says surprise move will cause disruption to patients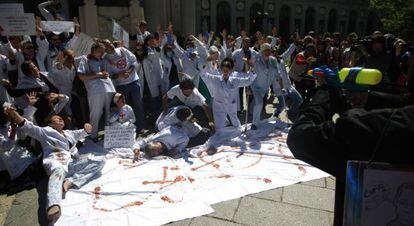 For most of the last 40 years, Victor Gutiérrez Millet has worked as a kidney specialist at Madrid's 12 de Octubre public hospital. On April 30, without any warning, the 68-year-old was called to a meeting with the human resources department where he was handed a letter informing him tersely that he was being forcibly retired.
"It was a very cruel letter - clinical, and without a single word of gratitude in recognition of my work as a professional over the last 40 years," he says.
He is not alone. Two others in his department are being retired, while in the rest of the hospital a further 150 medical staff aged 65 or over are to go. In total, the Madrid regional health authority is to forcibly retire some 700 specialists out of around 15,000, abandoning its policy until now of allowing medics to work until age 70 providing they remained in good health.
The aim is simple: cost cutting; men and women of Victor Gutiérrez Millet's generation are among the best-paid in the healthcare system.
These cuts exhibit a lack of respect towards patients who this coming week  will find that their specialists have gone 
Over their lengthy careers, many have risen to occupy important positions, but instead of retiring them progressively, allowing their department time to adapt, the regional health authority - which refused to talk to EL PAÍS about its decision - has decided to get rid of them in one go, and did so ahead of a bank holiday weekend. The majority of the empty posts have not been filled: the replacement rate, as with the civil service, is 10 percent. The Madrid College of Medicine warns that simply cutting the number of specialists overnight is an "easy saving" that could affect patient care.
It describes the unannounced decision by the regional health authority to suddenly cut the number of specialists as: "a lack of respect toward patients, who this coming week will find that their specialists have gone, and that quite possibly there will be nobody with their experience, authority or training to replace them."
The letter given to the specialists indicated that their contract terminated on May 15. In the case of Guttiérrez Millet, who founded the kidney unit at the 12 de Octubre hospital, and which has since become a leader in kidney and pancreatic treatment and transplants in Spain, he was told that he had nine days' holiday left and was invited to take them. That is the exact number of working days until May 15, meaning that he was not intended to return to the hospital where he has spent his professional life. "But my colleagues and I have appointments on Monday, and we will be there," he says.
Privatization battle resumes
- The approval of the invitation to tender for the management of six hospitals in the Madrid region - the largest privatization process ever in Spain - has sparked renewed protests among healthcare professionals. The regional government says it will oblige the new management to employ current staff, although it has not said anything about the conditions of new contracts.
- The Madrid Association of Qualified Specialists (AFEM) has called a one-day-a-week strike from May 7 in response to the forced retirement of 700 senior medics.
- "Are you in favor of a publicly run, quality health service, available to all, and against its privatization and legislation that permits this?" Madrid hospital staff have organized a popular referendum until May 10 asking patients if they support the privatization of hospitals.
- A letter signed by 12,000 staff and patients of the Infanta Sofía hospital in Parla - earmarked for privatization - says patients will change hospitals to be treated at one that is "100 percent public."
Rufino Paz, a 68-year-old physician, will also be turning up for work at his hospital in the Madrid dormitory town of Getafe this week. "My patients have appointments and in some cases these are people I have known for several years. I cannot go just like that; in some cases I have to decide on treatments. If they had only given me a little time to organize things," he says.
Like his colleague at the 12 de Octubre, he is angry at what he calls the Popular Party-controlled Madrid regional government's "lack of respect" in retiring senior healthcare professionals in this casual manner.
Both men had signed an agreement when they reached 65 prolonging their contracts until they reached 70. "They have changed the law and are now applying it to us retroactively," Paz says, referring to the regional government's decision late last year to change the rules, followed a few weeks ago by a new human resources plan stating that the end of a medics' working life was 65, while allowing for a "maximum" of 30 percent to apply for an extension.
Gutiérrez Millet says that none of his colleagues have been allowed to stay on, and that his request to do so was turned down for reasons which were "absolutely false."
"It is not the case that my department is sufficiently staffed," he argues. He adds that the regional health authority has also failed to take into account his publications or his management of kidney outpatients: "We have gone from a waiting list of three months to 10 days."
Julián Ezquerra, the secretary general of medics' labor union Amyts, is also unhappy at what he considers disrespect on the part of Madrid's health authority. "We will go on strike to defend our system and our patients," he says.
Other regional governments have tried to change the law in recent years to allow them to retire medics aged 65 or over. One of them, Catalonia, was forced by the courts to backtrack. "The worst thing about this is that I am better at my job than I ever have been: all those years of training are paying off more than ever. I want to work. I am more experienced and motivated than I was when I was 40."