LATIN AMERICA
Mexico's states struggle with soaring debts left by their outgoing governors
Lack of transparency and corruption in loan applications threaten growth and development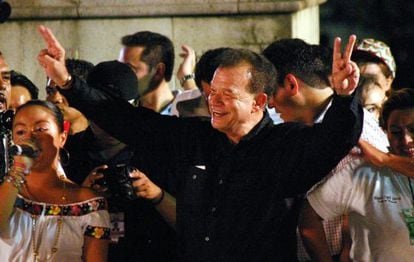 When Humberto Moreira took office as governor of Coahuila in December 2005, the northern Mexican state had a debt of 300 million pesos ($24.4 million). Today, the residents of Coahuila owe the banks some 36.5 billion pesos ($3 billion).
As the state tries to pull itself out of its debt, Moreira – whose Institutional Revolutionary Party (PRI) administration used false documents to continue to apply for loans – spends his days in Spain where he is studying for a master's degree.
Coahuila is a paradigmatic case, but it is far from being the only one in Mexico. In Jalisco, Tabasco, Chiapas and Michoacán states – or in other words, in any corner of the country, regardless of the party running the government – unchecked growth, secrecy on the part of officials and corruption allegations surrounding debts have become the main threats for the future of the country's 32 states.
According to Mexico's Finance and Public Credit Department, state debts have surged by 148 percent over the last six years, reaching more than 400 billion pesos ($32.5 billion) this year.
But experts say that the stability of the country's public finances is not in jeopardy (state debts account for 2.5 percent of national GDP). However, they endanger development in those states that use federal funding to meet their current obligations, such as paying the salaries of employees or the electricity bill, rather than using the money to invest in productive activities or social services.
About 90 percent of the states' revenues come from the federal government, which in turn derives from taxes on consumption and income. However, there have been cutbacks since the financial crisis of 2008: funding has been reduced by approximately 30 percent.
"The federal incentive is for everyone to fend for themselves. And the way they could do this was through increased borrowing," said Democratic Revolutionary Party (PRD) Senator Mario Delgado.
Guillermo Cejudo, a political science professor, explained that governors in individual states embarked "on a bad financial strategy" without taking into account how they were going to pay back the loans. Some even relied on federal funding to pay off their debts.
Andrés Granier, the former governor of Tabasco, came to office in 2006 with some 500 million pesos ($40 million) of debt on the books. Today, his state owes 10.1 billion pesos ($827 million). This gaping hole was discovered when money ran out for public hospitals at the end of last year, igniting an unprecedented health crisis in the state. Five hospitals had to cancel surgeries and ask for outside donations to feed patients.
While the outgoing governor insisted that the problem was being resolved, his family employed 160 servants and domestic workers and spent some 100 million pesos a month in personal expenses charged to the public treasury, the Mexico City daily Reforma reported in January. While Tabasco has implemented strict austerity measures, Granier and his family live in Miami, far from the crisis.
"One of the biggest challenges we face as a country to maintain financial stability is to fight impunity," said Juan Pardinas, director general of the Mexican Institute for Competition (IMCO). "The dysfunctional justice system permits cases such as this one to exist without any consequences to the governor."
The Mexican senate approved a bill last week that will now prevent governors from listing their state's debt obligations with current spending allotments. The reform also mandates increased spending on productive activities, and prohibits governors from asking for more loans in the last three months of their administrations. This is what occurred with former Chiapas Governor Juan Sabines, when his state's debt obligations increased by more than 5,000 percent over the course of several years.
Under Mexican law 31 of the country's states -- the only exception being the Federal District -- can build up as much debt as they wish if their local legislatures allow it. The Senate reform has revoked that autonomy.
Experts like Pardinas believe the Senate's new law is lacking because it doesn't address the problem of impunity. Delgado, who broke ranks with his PRD party and voted against reform, said that nowhere in the wording does the law call for transparency.
"In reality, no one knows the exact figure of total amount of debt; not even the senators who voted in favor of the bill," he said.