Galician Popular Party leader under fire for drug trafficker link
Núñez Feijóo promises public explanation of photographs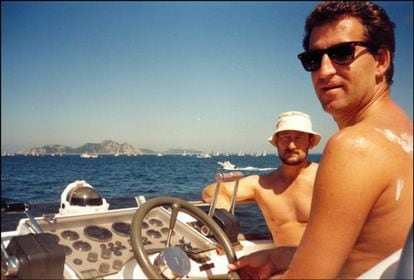 Pressure is growing on Galicia regional premier Alberto Núñez Feijóo of the Popular Party (PP) to step down after EL PAÍS published photographs of the politician in the company of Marcial Dorado, a convicted drug-trafficker.
The photographs were taken during the mid-1990s in Vigo and show the two men relaxing on a boat belonging to Dorado, although Feijóo was also pictured at properties owned by the smuggler and had taken holidays in his company.
The Galicia premier on Sunday morning admitted having had a "personal relationship" with Dorado but insisted the pictures were taken some 20 years ago, when he had no reason to suspect his friend was involved in illicit activities.
When Dorado was charged with trafficking, Feijóo said, he immediately broke off contact between the two men. At the time, Feijóo was 34 years old and serving as deputy secretary of the Galicia regional health department.
The politician said in an interview with Cadena Ser radio that he would give a full explanation in the region's parliament about the photographs, and the nature of his relationship with Dorado. Xavier Vence, spokesman for the Galician Nationalist Bloc (BNG), said that Feijóo "is not a premier worthy of continuing at the head of the Galician Xunta," and called for his resignation.
Another opposition force in the region, the Galician Left Alternative, demanded that Feijóo provide "convincing explanations" over the revelation. Its spokeswoman, Yolanda Díaz, said that the whole of Galicia knew about Dorado's links with organized crime and noted that in other countries, photographs of this nature have led to resignations being tendered by politicians.
The Galician Socialists did not rule out asking for Feijóo's resignation if his promised clarification was "as inconsistent" as those he has offered since the photos were published.
Feijóo revealed after the publication that for years he had received private and public insinuations that the pictures could find their way into the media glare in an attempt to "intimidate" him.
"The BNG is going to ask for clear explanations about the PP's relations with the world of drug trafficking in Galicia and, in particular, that between Mr Núñez Feijóo and some of the most notorious traffickers," Vence told news wire Efe.