CINEMA
Four aces in search of a Goya
EL PAÍS brings together some of Spain's best directors All of them will be vying for a prize at this year's Goya awards ceremony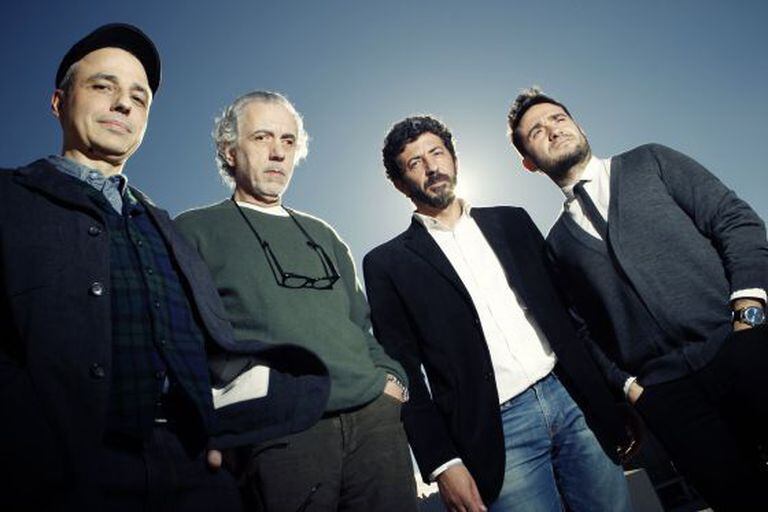 Four of Spain's most critically acclaimed directors - Pablo Berger, Juan Antonio Bayona, Fernando Trueba and Alberto Rodríguez - are going to be facing off at the 2013 Goya Awards in most of the big categories. Berger's silent black-and-white version of the Snow White myth, Blancanieves , leads with 18 nominations for the Spanish equivalent of the Oscars. Rodríguez's Unit 7 has 16 nominations, Bayona's The Impossible has 14, and Trueba's The Artist and the Model , 13. They met with EL PAÍS to discuss what led them to enter a profession that is facing ever-greater difficulties, and what motivates them to continue making films.
Question . How did your parents view your decision to become filmmakers?
Pablo Berger. For our generation it was still widely held that you had to go to university if you were going to make a go of your life. Your parents simply said, "You're going to go."
Fernando Trueba. My father said the same, but I ignored him. I remember the day I told him. We were having dinner, the kids and the grownups, and nobody said anything, they all just carried on eating. As I have always said a lot of stupid things, and continue to do so, everybody thought it was a joke. My father was a lovely man, very caring, but also very authoritarian. I liked to disobey.
One of the biggest dangers is separating auteur cinema from commercial cinema"
Juan Antonio Bayona. When my father retired, I made a video for him, and interviewed my grandfather. He said, "Your father is a very good person. I only had to hit him once. I was waiting for him all day, until 2am, and when he arrived, I hit him so hard he fell over, and he stayed down." And where was he? "Where else was he going to be? In the cinema!" At that point I realized where the whole thing came from.
Alberto Rodríguez. In my case, there was no problem, because my father was a technician at [state broadcaster] TVE. He didn't think it was strange. My mother did though, and she still asks me why I didn't go and work in television, and perhaps she's right.
P.B. My family was involved in music, and I suppose that if I had said I wanted to be a singer or a musician... but the cinema seemed strange to them, they thought that it would be like the rest of my hobbies: basketball, judo, soccer... When they saw that I was making Super 8 movies they said, "He seems to be taking this movie thing seriously."
F.T. When we talk about these things, I like to remember what Jean Rochefort told me. When he told his parents that he wanted to be an actor, his father said to him in a very serious way, "The war will sort all that out," as if to say: "You'll find out what life is about; there will be a war and you'll stop fooling about."
What brings the four of us together is that we have all written in our films"
Question: You all make very different films...
F.T. One of the biggest dangers at the moment is separating auteur cinema from commercial cinema. We live in a world in which everything is divided up into tribes, groups... when the nicest thing would be if everything were the same. When I was a kid and went to the movies it was to see Bergman, Truffaut, Billy Wilder, or Richard Brooks. And they were all auteur film makers, the scripts had been written by them; they were stories they wanted to tell, and at the same time they were commercial. Some were a success, and others less so - most were just okay in terms o0f the box office. Now there is no such thing as okay: movies are either a success or a failure. We need to get back to that: about making the movie that you want, but also that the maximum number of people see it; we are communicators after all. The problem now is that there is this cult of opaque cinema, unintelligible, which is only for a handful of the chosen, and then there is commercial cinema, which is looked down on because it is supposedly crap. The great thing about cinema is that it is a popular art form.
J.A.B. We have always been aware that movies are made by people, and that we are talking about directors, musicians... I have always believed that movies are made by ordinary people. But the Americans don't seem to understand this. I have tried to explain, for instance, to an American movie executive who Ennio Morricone is, and he replied by taking out his phone, and looking him up on Google. But it's not about whether you know who Ennio Morricone is, it's about seeing a film and being interested in the people who made it. You know that Scorsese's films are always edited by Thelma Schoonmaker, and this fascinates you when you are a kid, and you grow up wanting to be part of that mythology.
P.B. People look down on commercial movies. But I want my films to be seen by as many people as possible. There is nothing I like better than to see a movie theater full. What brings the four of us together is that we have written our films, we have created them from the start... They are different, so that people have something to choose from when they want to spend an evening watching a movie. We like to entertain people.
A.R. And we made them because we would like to see them, just like the audience. In the end, I rely on my intuition - of wanting to sit down in a cinema and watch the kind of film I have made.
Question . It's been a difficult year: sales tax has been hiked, and yet more Spanish movies are making it on to cinema screens. Is the box office a factor for you?
At the end of the day, the goal is to make the films you want to make"
F.T. When I was younger I used to be much more aware of the box office, not because of the money, but because I thought it was fun. But then the moment arrived when I realized that it was a waste of time. When I was younger I also used to read what people said about my films, and I would keep the cuttings. You realize eventually that life is too short and you stop doing that
P.B. I am very conscious of the box office because I depend on the success of my last film to be able to make the next one.
A.R. I learned with an earlier film, Seven Virgins , which made money, that there was a movie theater in a small town that would tell you what was a success. For months I was fascinated by this, and would keep checking that screen. I told other directors and they became obsessed as well. You get hooked on the idea of commercial success.
J.A.B. At the end of the day, like Pablo says, the goal is to be able to keep making films, the films you want to make. And that comes from being a success.
P.B. All four of us have been lucky in being able to make the films we wanted to, and the films we fought to get made. And now we are up for the Goyas, which means that more people will go to the movies.
Question. Which Goya would you like to win?
P.B. I would like to win the Goya for Best Film - not for me, but for the nearly 500 people who worked on the film. And if you win, then 500 people will jump for joy at home.
F.T. In my case, I'd like Best Actress for Aida Folch. For her generosity, for everything that she gave to the film, and for the effort that she made appearing nude and learning a language. When she found out that I was writing the script, she dropped everything, absolutely everything, without telling me, and went to France to learn French.
J.A.B. I'm not so bothered for myself: I'd like Chus Lampreave to win for her film Fernando . I have long been a fan of Chus - I saw all her films when I was a kid, and I've always believed that she has never been given the recognition she deserves.
F.T. So why didn't you give her Naomi Watts's role? It would have been a hell of a comedy!
A.R. In my case, I'd like to win Best Production Director. Shooting times are tighter than ever, and it's really difficult, and in my case, the production director was my partner. It's a very tough job, and very few people realize how important it is. She kept us all on schedule, and I am very chaotic.
Question. What will you say to the culture minister, José Ignacio Wert, if you meet him on the big night?
I want to pay my taxes, but in a country that defends art, and cinema"
F.T. What are you going to say? The situation is a total disaster. Last night I was reading an article that said capitalism is opposed to art by definition, and it's true.
J.A.B. The defense of cinema begins in the classroom, we have to teach kids to love cinema. And not just cinema - the theater. We talk about the French model as though it were an economic model we should imitate, but we forget that they learn to love movies at school.
A.R. [French director Robert] Guédiguian said recently that aside from subsidies there is a deal between the right and the left not to touch the movie industry.
F.T. [Finnish director] Mika Kaurismäki told me once that they wanted to pass a law in Finland doing away with all art funding. All the movie makers, painters and musicians got together and decided to go to Andorra. It was a collective decision that put a stop to the law. Those of us who love art should all ask for French citizenship. I want to pay my taxes, but in a country that defends art, and my profession, which is cinema. The law doesn't protect me. We are being attacked every day. Nobody defends us.
A.R. I would tell him that this has been a good year for the film industry, but only because all these movies were made before the [government] cuts.
F.T. These films that we have made, could they be made today?
A.R. What is certainly true is that not as many films could have been made without subsidies.
J.A.B. We're all here, a few directors, who are mad about movies, and who have to make films, and we do it with two people instead of 100. So what happens to those other 100 people. Who cares about them? They have to make a living as well. They are also under attack. I know a guy called Javi, who pushes the camera dolly for my films. He used to make two or three films a year; now he's lucky if he makes one. That man has a family, and he couldn't care less about the prizes and the red carpet, the Goyas.