Carrots for 13 euros? Finding new ways to fight the cuts
Professionals and the public alike are using innovative methods to defy savage austerity measures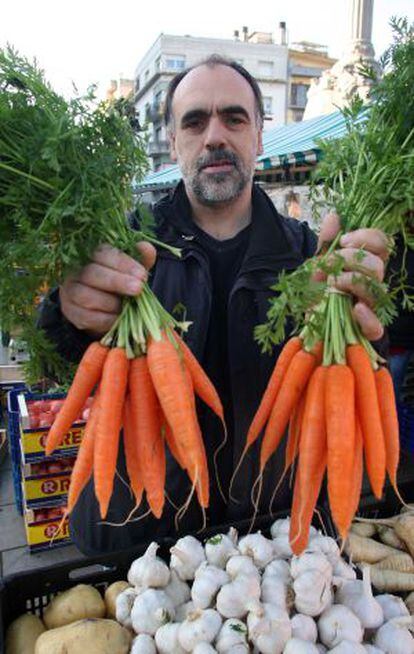 Faced with a government focused solely on imposing ever-greater austerity measures, and opposition parties unable or unwilling to channel popular discontent, growing numbers of people throughout Spain are taking matters into their own hands and staging small acts of resistance.
Manuel Villoria, a professor of political science at the King Juan Carlos University in Madrid, says Spaniards are correct to make a stand. "People are right to fight back," he says. "The political parties have broken the social contract: why should we do as we are told; why should we support the system? Firstly, we have all seen how dishonest many of our politicians are, and secondly, there is a widespread feeling that nobody in power knows what they are doing, that they are going to be able to sort this mess out." That said, he admits that so far, resistance has been fragmented.
Civil disobedience is nothing new in Spain, and many people over the age of 50 or so will still remember the heady days of the 1960s and 1970s, when students and workers began taking bolder and bolder action against the regime of Francisco Franco, staging strikes, sit-ins and refusing to do their military service.
Javier de Lucas, a professor of philosophy of law at the University of Valencia, explains how conscientious objection led to civil disobedience. "The two are very different concepts: objection reflects conflict between one's conscience and the law. But the goal of civil disobedience is not to suspend the application of the law toward an individual, but to change the law for everybody through actions that can be individually carried out."
He points to the campaigns staged by the Mortgage Victims Platform - which in some cases have prevented people from being evicted from their homes - as the clearest examples of civil disobedience in response to the policies of the government.
"People are now doing things that could create problems for them. They are doing them because they do not agree with the government's cuts, for example, which they think go against ethical principles that have a higher value than simply obeying the law. And they are prepared to suffer the consequences," says De Lucas.
Civil disobedience is, by definition, non-violent, and is only a resort when other measures have proved unsuccessful. But De Lucas says the widespread lack of trust and slowness of the justice system - "coupled with cuts to legal aid" - makes Spaniards more likely to resort to direct action rather than pursuing their goals through the law. Changing things is never easy, but as the civil rights movement in the United States in the 1960s shows, it can be done.
NO KEYS FOR EVICTIONS. Locksmiths in Pamplona have refused to work with the authorities to carry out evictions. Although locksmiths are usually not required until after an eviction has taken place, Iker de Carlos, spokesman for the city's 15 locksmith companies, says that in many cases locksmiths are required to force open doors while the occupants are still inside, making them the final link in the judicial chain by which the banks recover properties from people unable to pay their mortgages.
"When you see it on the television it is different to when you turn up at an eviction and you know you are helping to throw somebody out of their home; that will stay with you forever," he says.
"We know this isn't exactly going to start the revolution, but it might just provide the spark that Navarre needs to come up with solutions to this unfair situation," says De Carlos, pointing out that the law still allows for banks to recover properties by force if necessary.
Following the lead of their colleagues in Pamplona, the Union of Security Locksmiths, which is made up of more than 300 companies nationwide, has said its more than 2,000 members will not take part in what it calls "extremely serious" evictions: cases involving families, elderly people, or children who are going to be put out on the street.
The first such protest took place in Barcelona, when a locksmith found himself dealing with a situation involving a single father with four children, one of whom has mental health problems.
"It was a situation in which he believed that he should not take part, and so he left," says the organization's president, David Ormaechea.
CHRISTMAS PAYMENT. There have even been cases of local governments refusing to obey orders from on high. A number of local councils and regional governments chose to ignore the decision by Madrid to cancel the traditional extra Christmas payment for public sector workers to save money.
The regional governments of Extremadura, Navarre and the Basque Country have found a way round Prime Minister Mariano Rajoy's demand that public sector workers lose their Christmas payment by simply bringing forward the summer extra payment due this year, which was not covered by last year's decree.
The government is not impressed, and has accused the administrations of fraud and will be taking legal action.
The Mayor of the Galician city of Pontevedra, Miguel Anxo Fernández of the left-leaning Galician National Bloc (BNG), argues that the Christmas payment is a legal right, and forms -- like the extra monthly salary payment in June -- part of the overall annual salary, which has simply been divided into 14 payments and is not a bonus.
He told local media that cutting the payment at Christmas would also have an impact on the local economy by reducing spending.
"Yes, we are rebelling, we are standing up for our rights," says Fernández, "because this government is only interested in hitting the people who are least responsible for this mess. I guess we are close to breaking the law."
He says public sector workers agreed to a few extra hours to improve productivity in return for the payment.
CARROTS AGAINST THE VAT RISE. Thirteen euros for a carrot? That is the solution that Quim Marcé, the director of the municipal theater in the small Catalan town of Bescanó, has come up with to get round the new 21-percent sales tax on everything from beer and wine to clothing and movie tickets.
When the government hiked the value-added tax (VAT) rate on theater tickets this past summer, Marcé thought his theater was doomed. With one in four local residents unemployed, Marcé knew that even a modest hike in ticket prices might leave the 300-seat municipal theater empty.
"We said, 'This is the end of our theater, and many others.' But then the next morning, I thought, we've got to do something so that we don't pay this 21 percent, and we pay something fairer," says Marcé.
He says he looked out his window at farmland that surrounds this village, two hours north of Barcelona, and suddenly had an idea: instead of selling tickets to his shows, he'd sell carrots.
"We sell one carrot, which costs 13 euros -- very expensive for a carrot. But then we give away admission to our shows for free," he explains. "So we end up paying four percent tax on the carrot, rather than 21 percent, which is the government's new tax rate for theater tickets."
Classified as a staple, carrots are taxed at a much lower rate and were spared new tax hikes that went into effect on September 1.
The highest value-added tax rate on things such as cars and clothing went from 18 to 21 percent, despite a campaign promise by Rajoy not to touch the top rate. Sales tax on movie and theater tickets jumped from eight to 21 percent.
Banners at the entrance to the village of Bescanó announce the local theater's carrot-selling campaign, with the slogan "For the Health of Culture," in the Catalan language.
Such tax hikes have sent tens of thousands of Spaniards into the streets to protest every weekend since the new rates took effect.
Pilar Bayé, a civil servant in Bescanó, traveled to Barcelona to take part in the protests. She also bought a ticket -- or rather, a carrot -- for a performance next month.
"It seems to me like a good idea, because culture shouldn't be taxed so much. Culture should be accessible to all the people," Bayé says.
TAXES ON PRESCRIPTIONS. "The day that the one-euro copayment tax was introduced on all prescriptions in Catalonia, we decided to go to our local pharmacy and tell the owner that we wanted to object," says Ángels Martínez Castells of the organization Stand Up for Public Health.
Word spread, and growing numbers of people in Catalonia are refusing to pay the one-euro copayment imposed by the regional government of Artur Mas.
"Refusing to pay means a fine of 1.20 euros, but it is worth it just for the pleasure of saying, 'I'm not paying, I'm protesting'," says Castells.
She says that so far, the government has not imposed the fine, "and if they do, we'll organize a huge campaign." Castells hopes Catalonia's example will be followed in Madrid, where the copayment has been in force since January 1.
JUDGES AND THE LAW. Growing numbers of magistrates are expressing their opposition to evictions and cuts to legal aid. In October, a report by a panel of seven judges criticized Spain's banks, saying the country's eviction laws are out of date, and that more leeway should be given to those unable to pay their mortgages.
The report blames Spain's construction sector, which led a decade-long economic boom, for much of the eviction crisis.
With Europe's highest jobless rate, at more than 25 percent, Spain has seen 350,000 evictions in the past four years, according to the report, which accuses Spain's banks of "frivolity and bad practice."
One of the most pressing issues to be resolved, the study says, is the fact that repossessed properties are often revalued below market price once the bank recovers them, leaving the former owner saddled with an enormous debt.
Since then, some judges have found ways to freeze eviction cases, or have ruled that owners can cancel the debt by returning the keys to the property.
Meanwhile, Carlos Antonio Vegas, a Benidorm-based judge, has appealed to the European Court of Justice to explain his decision not to charge court filing fees introduced in November.
The new Fees Law introduces a system of charges for individuals filing legal procedures - ranging from 100 to 1,200 euros. A Socialist government had abolished a similar system in 1986 to facilitate equal access to the law courts.
MEDICS AND THE LAW. At least 2,200 doctors and nurses have said they will ignore legislation introduced in July that excludes people without residency permits from access to free healthcare, except in emergencies.
Madrid GP Mar Sacristán says the government decision contravenes medical ethics. "There is no way I am going to stop providing a public service. I treat people on the basis of their health, and not their social status or designation by the bureaucracy," she says.
"This measure will increase inequality and drive a wedge through our society, weakening us all," she adds.
Sacristán has continued to treat men and women in Spain without residency permits who turn up at her health center without an appointment.
The Spanish Society for Family and Community Medicine is coordinating the protest. The organization says it will continue to campaign to have the law reversed. A citizens' campaign to protect the public health service is being coordinated through the Yo sí Sanidad Universal (I back universal healthcare) movement.
OPEN-AIR LECTURES. Last summer the government announced the biggest single hike in university tuition fees, which was swiftly followed by cuts to the education budget. Academics and alumni have since staged protests.
In Madrid, students at the Autónoma University interrupted the official inauguration of the academic year. Other measures, such as presenting tuition fee forms en masse so as to slow down the payment process, or refusing to attend lectures that would have been given by teaching staff who have since been laid off, have largely failed.
At the beginning of the academic year, around 100 teachers from Madrid's Complutense University decided to hold their lectures in the open air, heading for public squares, parks, and the grounds of historic buildings to protest the cuts.
They then descended on the Puerta del Sol, scene of so many protests over the last two years, to sing the Complutense's alma mater, promising to return on March 9 with students and staff from the UNED distance learning university, as well as the Science Council.