FORMULA 1
Alonso's Suzuka spin
Spaniard retires on first lap of Japanese Grand Prix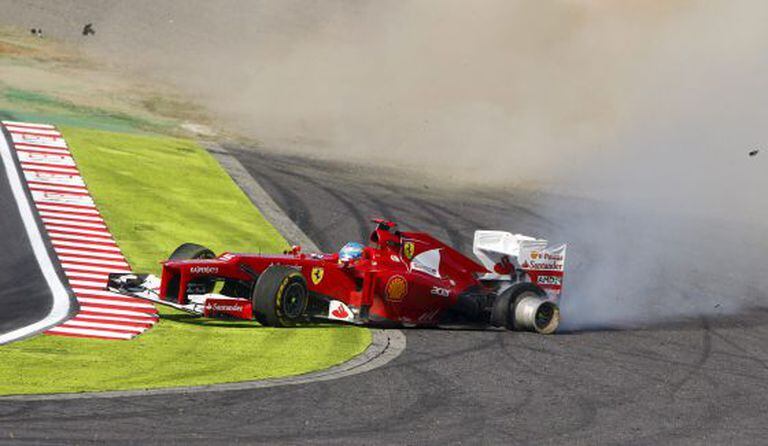 A first-lap puncture saw Spanish Formula 1 star Fernando Alonso spin out of the Japanese Grand Prix on Sunday, a disastrous result that saw his lead in the championship over second-placed Sebastian Vettel reduced to just four points. The Red Bull driver took the win at Suzuka, with Alonso's teammate Felipe Massa taking a well-deserved second place, and Kamui Kobayashi managing to fight off the McLaren of Jenson Button to finish third in front of an ecstatic home crowd.
A messy first corner saw a number of incidents, including contact between the Lotus of Kimi Raikkönen and Alonso's Ferrari. That caused a left-rear puncture, sending the car careening over the gravel trap, spinning it dangerously into the path of oncoming cars.
Fortunately, Alonso emerged unscathed from the incident, but his race was over. It marked just his second retirement of the 2012 season, the other having also taken place on the first lap when he got caught up in an accident caused by Lotus's Romain Grosjean at the Belgian Grand Prix in September.
In fact, the Frenchman was the instigator of yet another first-lap incident on Sunday, crashing into the back of Mark Webber's Red Bull at the same corner where Alonso got into trouble. A furious Webber branded the Lotus driver a "nutcase" and called for him to be given another one-race ban, as was the case after the incident in Belgium. Webber eventually finished in ninth place, while Grosjean crossed the line last, having been handed a 10-second stop-go penalty for the incident with Webber.
Speaking after he retired from the race, Alonso said he was as committed as ever to the fight for the championship, maintaining that nothing had changed despite Sunday's bad result.
"Raikkönen touched me and gave me a puncture," the double world champion explained. "I couldn't take the first corner. But that's racing. We have to think about the next race now. With four points, this is like a mini-championship. We need to try and score more points than \[Vettel\] in the last five races. Let's hope we can get a bit of luck back."
The next race will take place on October 14 in Korea, with the last race scheduled for November 25 in Brazil. Fans of the sport will no doubt be hoping that Vettel and Alonso will take the battle for the championship right down to the wire.
Adheres to