DIPLOMATIC STANDOFF
Garzón: "We will go to international court if UK blocks Assange exit"
Spanish judge says Britain must respect Ecuador's decision to grant asylum Foreign Minister Hague says his government's only obligation is to extradite WikiLeaks founder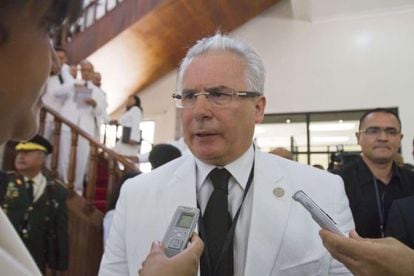 Judge Baltasar Garzón, who is leading Julian Assange's legal team, announced Thursday that he will go before the International Court of Justice at The Hague if Britain refuses to allow the WikiLeaks founder to travel to Ecuador, the country that granted him asylum.
In an interview after Ecuador had announced that it was approving Assange's request for diplomatic asylum, the former High Court judge criticized the show of force and "threats of invading" the Ecuadorian Embassy in London, where his client has been holed up since June 19.
"Of course they can't do that," he said. "They have to comply with diplomatic and legal obligations under the 1951 UN Convention Relating to the Status of Refugees, and respect the sovereignty of a country that has granted asylum.
"If Britain doesn't comply with its obligations, we will go before International Court of Justice to demand that Britain complies with its obligations because there is a person who runs the risk of being persecuted politically," Garzón said.
Assange has been fighting extradition to Sweden where he is wanted for questioning in two sexual assault cases. He hasn't been formally charged, but Swedish prosecutors said that they have solid case against him.
The WikiLeaks founder fears that Sweden will send him to the United States to face prosecution in connection to the massive release of US State Department cables in 2010 that caused international furor.
Britain has said that that it won't allow Assange out of the country unless his destination is Sweden.
"We will not allow Mr Assange safe passage out of the United Kingdom, nor is there any legal basis for us to do so. The United Kingdom does not recognize the principle of diplomatic asylum," said William Hague, the foreign secretary.
Ecuador, meanwhile, has demanded that Britain respect its decisions.