The cursed course of 'Manolete'
Bullfighter movie filmed in 2006 to finally get a release on Spanish screens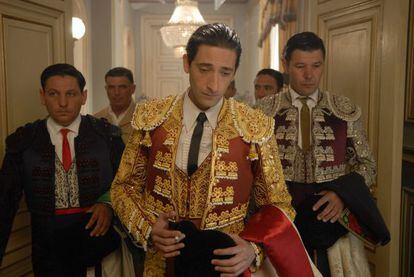 Six years after a much-publicized shoot and theatrical releases in several European countries, the United States and Japan, Spanish audiences will finally get to watch Manolete, a biopic of the famous bullfighter starring Adrien Brody and Penélope Cruz.
At least, so say the distributor, Premium Cine, and the producer, Andrés Vicente Gómez. Certainly, it would not be the first time that a premiere date is announced in Spain and then cancelled.
"We've had a lot of post-production trouble, and it was two-and-a-half years before we had an acceptable version ready," says Vicente Gómez, who insists that the movie never had an official Spanish release date until now. Yet in March 2010, when it opened in France, the producer told EL PAÍS that the movie would be available in Spain by the second half of May.
Rated PG-13, Manolete will not get a big, flashy premiere, but a more discreet first screening, with just 50 copies in circulation.
Branded as a cursed movie given its delays, the film is already available on DVD in France and Britain (where it goes by the title of A Matador's Mistress ), and through video-on-demand in the US. It is even on some airlines' list of in-flight movies.
It was two-and-a-half years before we had an acceptable version of the movie ready"
The producer blames the late Spanish premiere on a prior agreement with the director, by virtue of which if critics and the box office did not respond in the expected way elsewhere, a different version would be circulated.
"It took us another six months to redo postproduction for the Spanish premiere, and when it was finally all agreed on, we found a very complicated situation for the movie industry, which is not exactly going through a great moment right now - not to mention bullfighting, which is not always appreciated by all sectors in the world of culture and the public."
Given this situation, Vicente Gómez says they decided "to let some time go by to see what happened." Now, as a result of an agreement between the production companies, Iberoamericana Films and Era Audiovisual, and the distributor Premium Cine, Manolete will reach Spanish movie theaters on August 24. But it remains to be seen whether what the distributor describes as "the most widely anticipated movie in Spanish film" will finally be premiered or not.
Directed by the Dutch filmmaker Menno Meyjes and with Adrien Brody - an Oscar winner for The Pianist - in the role of Manolete, the biopic follows the last years in the life of the bullfighter, who died in 1948 at age 30 from a fatal goring by a 500-kilogram bull named Islero.
The action takes place when the matador had already become a popular public figure in 1940s Spain. That is when he meets and falls in love with Lupe Sino (played by Penélope Cruz), a woman who passes on to him her intense love of life.
Shot on a 21-million-euro budget, according to the producer, this major production also enlisted known Spanish actors Juan Echanove and Santiago Segura, with cameo appearances by the real-life bullfighters Espartaco and Cayetano Rivera.
This is not the first movie about Manolete to be made. In 1948, the year after his death, director Florián Rey made a film called Tribute to Manolete , starring Pedro Ortega in the lead role.