EURO CRISIS
Merkel supports Spain's austerity drive and bank plan, says Rajoy
German leader and Spanish prime minister meet in Chicago Government ruling out external aid for ailing financial sector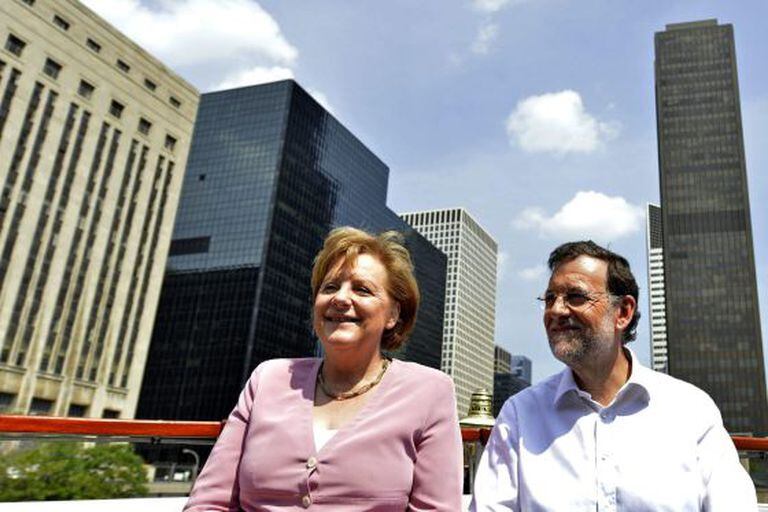 Spanish Prime Minister Mariano Rajoy said on Sunday that German chancellor Angela Merkel has given her full support to the reforms being carried out in Spain, including making Spanish banks more transparent in their operations.
After meeting with Merkel in Chicago, where the two leaders attended the NATO summit, Rajoy said there will be no changes in the austerity drive the Popular Party (PP) government has undertaken. At a news conference, in which he didn't take any questions, the Spanish leader announced that he will organize a conference for international investors in September and will be meeting with French President François Hollande in Paris in the coming days.
Rajoy said he went to the meeting with Merkel — which he claimed was at the request of the German leader — without "anything in mind" to ask of her.
But government sources said Rajoy told Merkel that the European Central Bank (ECB) must step in and help countries, such as Spain, that have been strictly adhering to Brussels' austerity formulas. The Spanish prime minister echoed what many other European leaders have been demanding: austerity but with favorable terms for growth.
"The Germans have to realize that they cannot ask any partner who, like us every Friday, hassles citizens [with more measures], to assume the cost, and then there are no results because Europe is paralyzed," said a top Spanish government official. "In the end, this goes against policy, goes against Germany, and against everyone else. I'm sure they will understand this. We are going to work hard so that they will."[