Spain's tourist sector battered once more, as sixth wave of coronavirus pandemic prompts hotel cancelations
The Canary Islands' high season is the worst hit right now, with only the country's ski resorts apparently immune to the effects of the omicron variant
Spain's hospitality and leisure sectors are reliving their worst nightmares. The coronavirus pandemic battered the country's mighty tourism sector, which was responsible for 12.4% of GDP before the health crisis broke out. But since the summer, the sector had regained some optimism. Then the omicron variant arrived, causing a never-before-seen explosion of cases in Spain, and turning everything upside down once more.
Cancellations, a slowdown in reservations and a series of new restrictions announced by Spain and other countries are all putting the tourism sector on alert. "There has been a worrying change of trend," explains José Luis Zoreda, the vice-president of the Exceltur tourism association. "In October we were very hopeful because we were starting to see the light at the end of the tunnel, and six weeks later here we are again, bogged down and waiting to see how long this situation will last."
"There are people who canceled early and others who are canceling at the last minute, but whatever the case there are a lot of cancellations right now," says Ramón Estalella, the general secretary of the Cehat hotel association. He adds that there are a number of factors prompting these changes in plans: fear of infection, restrictions on activities that he describes as "medieval," and rules that can, from one day to the next, change entry requirements into the country thus complicating the arrival of foreign tourists.
Given that the situation is still evolving, both Exceltur and Cehat consider it too early to put figures on the situation across Spain. But estimates from some associations help to paint a picture. "Just 50% of tourists are keeping their travel plans in place," said the Valencia hotel association Hosbec on Tuesday. The body calculates that average occupation over New Year week will be around 50% of total beds. The Canary Islands appear to be holding up better, with occupation around 75%. But in context, this figure is of concern given that right now is the archipelago's high season. Only ski resorts appear to be avoiding the problems caused by the pandemic. It's a conundrum that's as diverse as Spain's tourism sector itself.
Canary Islands
While the current hotel occupation level is 75%, this is expected to plummet in January and February, according to forecasts. "We are barely getting any reservations," explains the president of the Las Palmas Federation of Hospitality and Tourism Employers, José María Mañaricúa. "They have been frozen for a month, but this is due to the restrictions across Europe and not because we have any problems here," he clarifies.
The situation is one of great uncertainty," adds David Morales, president of the Skal Tourism organization in Gran Canaria. "Sales have stalled, and there is no activity either via tour operators or travel agencies."
Balearic Islands
The region has seen a slowdown in reservations over the coming months, with the market "completely halted," according to the Association of Hotel Chains in the Balearics. The president of this association, Gabriel Llobera, confirms that in December there was a slowdown of sales for summer, as well as a raft of last-minute cancellations for Christmas and New Year. "reservations for high season are currently 40% below those seen in 2019," he explains.
Sources from European tour operators describe the current situation as complicated, although they believe that this will be a "short-term" episode. "From next week, summer reservations will start and some people may wait, but the reservations for spring onward will be maintained," they add.
Good weather
Other tourist sports that attract foreign tourists, such as the Costa Blanca and the Costa del Sol, are also suffering from the current situation. Toni Mayor, the president of Hosbec, bemoans the turn of events caused by omicron. "In October the outlook for Christmas was very good, and now we are 30 or 35% below what we could have done," he explains. Fahat, the Andalusian Federation of Hotels and Tourist Accommodation, calculates that the occupation between December 23 and January 2 will not reach 56%, compared to 78% in the same period in 2019.
An unexpected spell of warm weather, which is seeing temperatures above 20ºC in Valencia, has raised hopes of a certain recovery before 2021 is over. "Second residences, meaning people will come here to spend a few days, in the end helps with the restaurant sector and you can see there is more of an atmosphere," Mayor explains.
But the perspective is that January will be an uphill struggle. "When the holidays are over, which will coincide with the peak of infections, we will have a very complicated six weeks until the end of February," the hotelier predicts.
Sluggish cities
Urban hotels are also banking on the arrival of March for some relief. The chain Soho Boutique Hotels, which manages 27 establishments in Spain, has seen customers cancel 35% of December reservations in the last 15 days. Fears of a spike in infections has seen occupation fall to 65% in nearly all the group's hotels, compared to the 82% seen in December 2019. "We are hoping for an uptick in occupation at the end of January and for March to see normal figures," explains Isabel Pons, the group's communications director.
The expectations of hoteliers in Barcelona for New Year of 80% occupation have also been dashed. The rise in infections and restrictions, in particular the curfew and closure of the nightlife sector in Catalonia, has prompted a steady stream of cancellations, with 10 to 20% of reservations annulled.
The same has been seen with tourist apartments, which are closing the year with 60% of occupation compared to the 80% forecast. According to calculations from Apartur, the association of tourist apartments in Barcelona, losses for last-minute cancellations amount to €2.8 million. In the case of hotels, the sector predicts that occupation this Christmas will not exceed 40% in establishments that are currently open: 320 out of a total of 440 in the capital.
Rural tourism
The last week of the year is usually the high season for inland accommodation, with rural properties usually completely full. But according to Silvia Manzanera, spokesperson for the Autural organization, which brings together 4,000 members from the sector across Spain, occupation is expected to be around 70 to 80% this week. "We have seen the highest number of cancellations for houses for groups," she explains. Fear of infection among people who usually do not live together is complicating these plans.
However, Manzanera points to the fact that rural accommodation continues to be "in high demand, because this is tourism in small environments that have made a major effort to adapt to Covid regulations."
A snowy paradise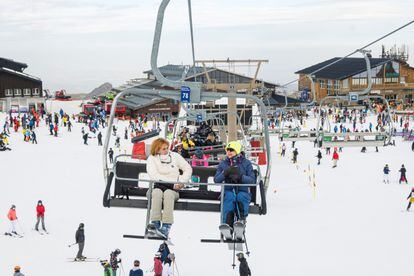 All of this uncertainty is not, for now, affecting Spain's ski resorts. Hoteliers and the owners of resorts all over the country have been eagerly anticipating the Christmas holidays in order to compensate for the disastrous season last year. Ramón Boter, the head of communication at the Masella ski resort in Girona, has been delighted by the number of skiers who have visited and reports that occupation is practically 100% in the area. "People are really keen to ski because they haven't been able to do so normally for two years," he explains.
Businesses in the sector in Andalusia are not concerned either. Santiago Sevilla, the head of communication at Cetursa Sierra Nevada, explains that occupation is as high as 80%. "There have been a few cancellations, but new customers are taking these up, meaning that the average has remained balanced for some days now," he adds. Luis Núñez, president of a tourist accommodation association in Asturias, is also breathing a sigh of relief. "Until now, among all the reservations we had, very few have been canceled," he says.
CREDITS
With reporting by Matteo Allievi (Madrid), Lucía Bohórquez (Palma), Blanca Cia (Barcelona), Margot Molina (Seville), Cristina Vázquez (Valencia) and Guillermo Vega (Las Palmas de Gran Canaria). English version by
Simon Hunter
.